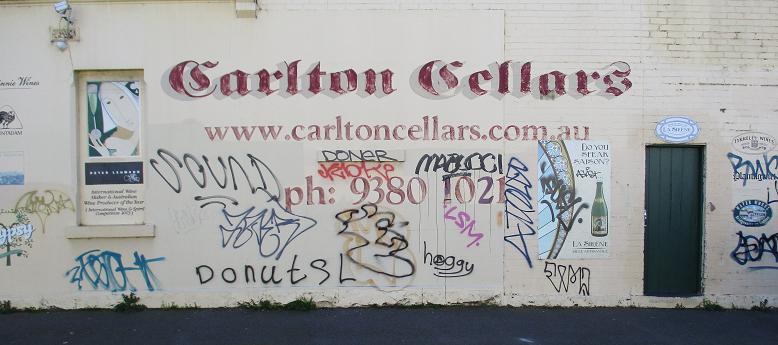 Image: CCHG
Tagging in Richardson Street North Carlton
In recent years, many historic Carlton buildings – both private residences and business premises – have been defaced with unattractive graffiti and tagging. Back in the 1980s, graffiti was not just a medium of self (or selfish) expression. It was also used to communicate social, political and public health messages. B.U.G.A.U.P. (Billboard Utilising Graffitists Against Unhealthy Promotions) was formed in Sydney in late 1979 and soon became active in Carlton and other inner city suburbs of Melbourne. The movement raised the ire of the tobacco, alcohol and advertising industries, resulting in prosecutions.
Two such cases were heard in Carlton Court in 1980. In February Dr Josephine Kavanagh, a radiologist at Royal Melbourne Hospital and anti-smoking campaigner, was placed on a 12-month good behaviour bond and ordered to pay $125 compensation to the Pacific Outdoor Advertising Company for painting slogans on a cigarette advertising billboard. Six months later, in August 1980 two young women – a medical student and speech therapist – appeared in Carlton Court to face charges for wilful damage in defacing a cigarette advertising poster. The hearing attracted a group of about 30 anti-cigarette advertising protesters, who demonstrated outside the court in support of the women. The case was rescheduled to the Melbourne Magistrates Court and the women were placed on 12-month good behaviour bonds and ordered to pay $106.90 each in costs.
References:
1 B.U.G.A.U.P.
2 The Canberra Times, 14 February 1980, p. 10
3 The Age, 20 August 1980, p. 6
---
Australia was a conservative country in the 1960s and in October 1966 a drawing exhibited at Strines Gallery in Rathdowne Street, Carlton, challenged acceptable standards of public decency. The gallery's director, Sweeney Reed, had an impressive art pedigree. He was the son of artist Joy Hester and the adopted son of art patrons John and Sunday Reed. The Reeds financed Strines Gallery, which Sweeney managed from 1966 to 1970. Sweeney appeared in Carlton Court in February 1967 to answer charges of having exhibited an obscene article, a black and white drawing entitled "Oops" by artist Ronald Upton. Upton was charged with having aided in the exhibition of an obscene article. The Canberra Times reported that witnesses, including an Anglican bishop, a fine arts professor, the acting director of the National Gallery and a psychiatrist, attested that Upton's drawing was of artistic merit and would not injure or corrupt children or teenagers.1
Stipendiary Magistrate R.W. Smith adjourned the case for a few weeks. In March 1967, after viewing the drawing at the gallery and within the court room, Mr Smith ruled that, while the drawing emphasised matters of sex and therefore fell into the category of obscenity, it was of artistic merit and unlikely to deprave or corrupt the class of people who viewed the exhibition. He dismissed the charges and ordered for the drawing to be returned to the buyer, Scott Stanley Carter. Sweeney Reed, a brilliant but troubled young man, committed suicide 12 years later in March 1979.2,3
Sweeney Reed and Strines Gallery was the subject of an exhibition held at the Heide Museum of Modern Art, from August 2018 to February 2019. The Bridget McDonnell Gallery, establised in Armadale in 1983 and in Carlton since 1986, now occupies the former Strines Gallery site on the corner of Rathdowne and Faraday streets, Carlton.
References:
1 Canberra Times, 10 February 1967, p. 4
2 Canberra Times, 3 March 1967, p. 7
3 Image of an artist as a doomed man, The Age, 18 March 2002

---
The young man had business to do at the Carlton branch of the English, Scottish and Australian Bank in Swanston Street. He dressed carefully and checked his pockets to make sure he had what he needed before heading off. On his arrival, he noticed that there were no other customers inside. That was good, the way he wanted it. As he entered the bank, little did he know that Saturday 22 April, 1933, would be the last day of his life.
The clock on the wall had passed the hour and was heading towards the midday closing time. The two bank staff – ledgerkeeper John Hayes and teller Andrew Frewin – were looking forward to knocking off and enjoying the rest of the weekend. Hayes briefly looked up when he heard someone enter the bank, then returned to his book work. Frewin was counting money inside the "teller's box", an enclosed work space with a metal grille that separated the occupant from the public area of the bank. He saw the man approaching, but what happened next was so sudden and unexpected that Frewin had no time to react, let alone defend himself. The man heaved himself onto the counter, reached over the top of the grille and grabbed a handful of bank notes. Frewin felt a searing pain in his eyes and was temporarily blinded. The metal grille, intended to protect bank employees and assets in the event of a robbery, afforded no protection against a handful of pepper used as an offensive weapon.1
Hearing Frewin's cries of pain, Hayes instinctively reached for the revolver he kept under the counter. He did not know the nature of Frewin's injuries, but he knew they had been inflicted by the man now running towards the door. Hayes released the safety catch and fired a single shot. Meanwhile, Mrs Ethel Halloran was shopping at Salvio's next door when she heard the commotion. On entering the bank, she saw a young man lying on the floor, obviously in pain, and initially she thought he was a bank employee. But he resisted her offer of help and pushed her roughly out of the way. She then realised that he was the perpetrator, not the victim, of a bank robbery. She did her best to restrain him, but he managed to get to his feet and stagger out of the bank. Mrs Salvio, who had followed Mrs Halloran into the bank, attended to Frewin and bathed his eyes in oil. He had no recollection of what had happened after the pepper was thrown in his eyes, apart from hearing the shot from Hayes's revolver. Hayes, still reeling from the shock that he had just shot a man, found a few bank notes dropped in the doorway, but saw no sign of the retreating robber.
Despite being shot in the chest, the bank robber managed to stagger two blocks before collapsing on the corner of Lygon and Queensberry streets. He was found by Plainclothes Constable L. M. Coysh, who took him to the Melbourne Hospital. On the way, the young man admitted that he had robbed the bank and asked Coysh: "Have you got the other fellow?" He refused to give his name, saying: "Call me Smith", or the name of his alleged accomplice. Was this an attempt on his part to divert police attention from himself as the sole perpetrator? Within a short time, the answers to these questions were of no consequence because the young man died soon after admission to hospital. The body of the mysterious "Mr Smith" lay in the morgue over the weekend until he could be positively identified. His fingerprints, taken post mortem, showed that he had no record of any prior conviction in Victoria. On Monday 24 April, The Age published a detailed description of the bank robber, issued by police:

About 24 years of age, five feet nine inches tall, medium build, clean appearance generally, clean shaven, freckled face and hands, good head of auburn hair cut short back and sides; rather thin face, prominent chin, flat nose with long bridge and showing signs of an operation to left nostril, soft hands, giving appearance of not having done hard work for some time; long finger nails well manicured. Dressed in blue suit with red pencil stripe, cream silk shirt, cream woollen fancy jacket, tan shoes with rubber soles. On the shirt collar were faded letters S.K.Y.C. The trousers bore a cleaner's number. There was a scar above the right eye, a scar on the right hip, and three prominent vaccination marks on the left forearm.2
The letters on the collar of the silk shirt provided a vital clue to the identity of the well-dressed and well-groomed bank robber. "S.K.Y.C." were the initials of the St Kilda Yacht Club. Mr John Stooke, commodore of the club, and Mr J.G. O'Neill, a member of the committee, identified the young man as a former employee of the club. John Dickson (Dixson) had worked there as a cleaner and caretaker for about a year, and he was considered an industrious worker, but he was dismissed in February 1932 for two incidents of insubordination. He had previously worked at Carlyon's Esplanade Hotel in St Kilda. Once the identity was made public, other people came forward claiming to know Dickson. Mrs S. Heal, a widow who lived in Queensberry Street near the bank, knew Dickson as a well-presented and well-behaved young Englishman. He had visited her and her daughter regularly until about 12 months ago, when she thought he had gone to the country to try his hand at gold prospecting. His reckless behaviour in robbing the bank seemed completely out of character with the young man she once knew. He had worked hard to send money back to England to help his widowed mother and support his blind brother.3
Dickson's housemate, a farm worker named John McKenzie, had boarded with him in Dudley Street, West Melbourne, for about seven weeks. The two men had known each other since 1927, when they had met at a training farm in Norfolk, England. They had been trying find employment in Victoria and, in the week leading up to the robbery, McKenzie claimed that Dickson had said several times that he would have to get money from somewhere. Somehow the image of Dickson as a farm worker or cleaner did not tally with that of the soft-handed and well-manicured man who lay on the mortuary slab. Whatever he had been doing since he left his employment at the St Kilda Yacht Club in February 1932, Dickson had the means of maintaining his clothing and appearance. This raises the issue that he may have owed money and was forced by circumstances – or his creditors – to rob the bank.
Once Dickson had been positively identified, police were keen to follow the line of enquiry that he had an accomplice. Not all the stolen money (estimated at £40 in total) had been recovered from what was dropped when Dickson made his escape from the bank. Several witnesses reported that they had seen him passing money to another man waiting outside the bank or nearby, but there was insufficient information to identify the alleged accomplice. There was another possible, more prosaic, explanation. Dickson was in a weakened state from the chest wound and he may have inadvertently dropped the money as he made his painful way from the bank in Swanston Street to Lygon Street, where he collapsed. It was conceivable that a few stray notes were picked up and pocketed by passers-by. Police were also trying to locate a friend of Dickson's, who was believed to work at a hotel in South Melbourne, but nothing came of their investigations.
The inquest was held on Friday 28 April, six days after the bank robbery and shooting. The Deputy Coroner, Mr T. O'Callaghan, P.M., heard evidence from bank teller Andrew Frewin, who was still suffering from the effects of the pepper attack ; ledgerkeeper John Hayes, who fired the fatal shot ; Mrs Ethel Halloran, who tried to restrain Dickson ; farm labourer John McKenzie, who lived with Dickson in West Melbourne, and Plainclothes Constable L.M. Coysh, who accompanied Dickson to hospital and heard his dying words. Mr O'Callaghan concluded that John Hayes was justified in shooting Dickson, even though his own life was not directly threatened. Hayes, as the more senior bank officer, had a duty of care to protect his colleague and the property of his employer, the English, Scottish and Australian Bank. He had acted appropriately and was fully exonerated.4
Notes and References:
1 The sensational bank robbery was reported in local and interstate newspapers from Monday 24 April through to early May of 1933. The reports vary in content and detail, including the timing of the robbery – anywhere between 11.00 am and near midday.
2 The Age, 24 April 1933, p. 9
3 Initial reports identified the robber by the surname "Dickson", but the spelling "Dixson" was used at the inquest (VPRS 24/P0/unit 1241/item 1933/435) and on his official death record (reg. no. 3048/1933). His parents' names were recorded as "unknown".
4 The Herald, 28 April 1933, p. 5.
---
Friday 16 February 1900 was Eva Dixon's special day. She was to marry her sweetheart Daniel and their first baby was already on the way. The bridal couple travelled to Lyndhurst in Rathdowne Street, Carlton, and were welcomed by Rev. Archibald Turnbull. He was a socialist clergyman, well known for his political activism, and he advertised marriage services at his residence. The wedding ceremony was conducted according to the rites of Our Father's Church and witnessed by two of Rev. Turnbull's daughters, Ada and Mary. Vows were exchanged, documents were signed and the marriage was duly registered under the names of Eva Emma Dixon and Daniel Samuels. But something was wrong. Daniel Samuels was not the man he claimed to be and his past would soon catch up with him. 1,2,3
Daniel Samuel Stroud was born in Sandridge (later Port Melbourne) on 17 March 1868, the son of Daniel Stroud and Annie Higgins. In June 1881, he was fined 5 shillings in Emerald Hill (later South Melbourne) Court for pledging stolen items of clothing at a pawnbroker's shop. The pawnbroker, Gottlieb Wielsch, was fined the greater amount of £5 for receiving the goods from a child under the age of fourteen, and without asking his full name. Six months later, on Christmas eve, Daniel was committed to the Ballarat Boys Home for a period of two years for stealing a goose. His parents were living in Emerald Hill at the time and Daniel's Children's Register entry reveals something of his home life: "The police report that the father is a worthless character, a convicted thief and very poor. The mother is a drunkard and dying of consumption." Daniel's mother Annie Stroud died in 1881, aged 41 years.4,5,6,7
In April 1889 Daniel Stroud, now an adult, married Margaret McKeogh (McKeough) at the Trinity Church in Port Melbourne. They had a daughter, Mary Ellen, born in 1890. The couple separated after a few years and in December 1898 Margaret Stroud sued her husband for maintenance of their daughter. Margaret was living in Footscray and she was known locally by several different surnames, which she adopted to conceal her identity. She had a boarder, a man by the name of Stevens who was a convicted criminal, but she maintained that they were not living together as man and wife. Margaret knew of her husband's living arrangements with his brother and sister-in-law and she expressed concerns that the sister-in-law may not be a fit person to care for the child. Daniel's defence lawyer, Mr Cunningham, countered Margaret's claims by saying that Margaret herself was not a fit person to care for her own child. The court decided in favour of the defendant, Daniel Stroud, and dismissed Margaret's maintenance claim.8,9,10
Margaret Stroud died on 6 April 1900, seven weeks after Daniel's marriage to Eva. Her death notices reads: "STROUD. – On the 6th April at the residence of her sister, Mrs. Stephens, 84 Moreland-street, Footscray, Margaret, the beloved wife of Daniel Stroud, aged 35 years. R.I.P." Beloved wife indeed! While Margaret breathed her last breath, her husband Daniel was enjoying married life with another woman. Daniel Samuel Stroud had falsified his name as "Daniel Samuels", and his marital status as a bachelor, when he married Eva at Lyndhurst in February 1900. He could not deny the evidence and his goose, like the one he stole in 1881, was well and truly cooked. Daniel Stroud appeared in Carlton Court in October 1900 to answer charges of perjury and bigamy. He was accompanied by his wife Eva, who carried a baby in her arms, and he was once again represented by Mr Cunningham. The court heard statements from Rev. Samford of the Trinity Church, Charles George Stephen (Margaret's brother-in-law) who was a witness to the first marriage and Rev. Archibald Turnbull, who performed the disputed second marriage ceremony. Eva declined to make a statement, as advised by Mr Cunningham, on the ground that a wife could not give evidence against her husband. The court agreed that both charges would be heard together and Daniel Stroud was committed for trial in the Criminal Court in early 1901.11,12,13,14,15
In the meantime, Daniel Stroud was granted bail of £20 and, as a widower, he was free to marry. He lost no time in legitimising his marriage to Eva, and the birth of their son Charles Daniel. This took place on 16 November 1900, nine months to the day after their first bigamous marriage. The marriage ceremony was once again conducted by Rev. Archibald Turnbull, but this time at the couple's residence in Spottiswoode (later Spotswood). The trip from Carlton to Spottiswoode may have been difficult for Rev. Turnbull, as he was not in the best of health at the time and he died four months later in March 1901. Daniel Stroud had his day in court on 22 February 1901 when, undefended, he pleaded guilty to both charges. He had an unexpected ally in Crown Prosecutor Mr Finlayson, who cast aspersions on the character of Daniel's first wife Margaret, claiming she had deserted him and taken up with a disreputable man. Judge Williams took a lenient view and allowed Daniel Stroud to go free, with a twelve month suspended sentence on his entering into a good behaviour bond and a surety of £25. Having escaped imprisonment, Daniel, Eva and their baby son Charles could have settled down to a happy family life. But more trouble was just around the corner. In August 1901 Daniel stole two canaries, valued at 15 shillings, from the premises of hotel-keeper Edward Charlston in Footscray. He made the mistake of selling one of the canaries to a friend of Mr Charlston. A warrant was issued for the arrest of Daniel Stroud, but it was never executed because he had disappeared, deserting his wife and baby.16,17,18,19


Victoria Police Gazette, 6 September 1901, p. 337
There was worse to come. Daniel's son Charles died on 16 October 1901, aged 15 months: "Patient little sufferer gone to rest". A death notice appeared in The Age in November, possibly in the hope that Daniel would return home to share his wife's grief. When she filed for divorce in 1905, Eva stated that she believed her husband had deserted because he was afraid of imprisonment if he was found guilty on the larceny charge, and for breaking his good behaviour bond. There was a gap of four years between Daniel's desertion and Eva filing for divorce. In the intervening years, she lived with several family members and worked as a domestic. Eva had several bouts of illness and hospitalisation, when she was unable to work and earn a living, and she gave this as an explanation for the time delay in her divorce petition. The divorce case was heard in November 1905 and, as expected, Daniel Stroud did not appear to defend himself. A decree nisi was granted on 17 November 1905 – five years and one day after Daniel and Eva were legally married – and the decree was made absolute two years later on 6 December 1907. Eva may have remarried because there was a marriage registered for Eva Emma Dixon (her maiden name) and Frank Henry Nerston in 1907. 20,21,22,23,24,25
What happened to Daniel Stroud? By a strange co-incidence, a man by the name of Daniel Samuel Stroud enlisted in the New Zealand Expeditionary Force in 1915. According to his attestation document, he was born in Melbourne on 17 March 1878 – ten years to the day after the birth of Daniel Samuel Stroud, the convicted bigamist. Significantly, he answered "no" to the questions "Are you married?" and "Have you ever been sentenced to imprisonment by a civil power?" The physical description from his medical examination approximates details in the Police Gazette notice – Height: 5 feet 7 inches ; Complexion: Dark ; Colour of hair: Dark brown. Could a man who once falsified his name and marital status also be capable of falsifying his date of birth and passing himself off as a much younger man? Private Daniel Samuel Stroud died of pneumonia, while on active service in World War 1, on 3 July 1916. He was buried in Bailleul cemetery in France.26,27
Notes and References:
1 Lyndhurst was a terrace house at 427 Rathdowne Street, Carlton. It was demolished, along with neighbouring properties, to make way for the new Neill Street Primary School, opened by the Minister for Education, Lindsay Thompson, in February 1973.
2 The Argus, 21 September 1898, p. 1
3 Marriage Registration No. 1610/1900
4 Birth Registration No. 12072/1868
5 The Argus, 13 June 1881, p. 7
6 Children's Register No. 12874 (VPRS 4525)
7 Death Registration No. 10360/1881
8 Marriage Registration No. 2566/1889. The marriage was registered under the names David Samuel Stroud and Margaret McKeough.
9 Birth Registration No. 10640/1890
10 Independent, 24 December 1898, p. 3
11 Death Registration No. 5510/1900
12 Leader, 14 April 1900, p. 44
13 The Age, 20 October 1900, p. 14
14 The Argus, 20 October 1900, p. 4
15 The Herald, 20 October 1900, p. 14
16 Marriage Registration No. 7995/1900
17 Archibald Turnbull's obituary in The Tocsin, 21 March 1901, p. 7
18 The Age, 23 February 1901, p. 8
19 Victoria Police Gazette, 6 September 1901, p. 337
20 The Age, 16 November 1901, p. 5
21 Death Registration No. 13672/1901
22 Working back from Charles Daniel Stroud's age of 15 months at death, he would have been born in about July 1900, five months after the wedding in February 1900.
23 1905/119 Stroud v Stroud: Divorce; Petitioner : Eva Emma Stroud; Respondent : Daniel Samuel Stroud (VPRS 283)
24 The Age, 18 November 1905, p. 12
25 Marriage Registration No. 9406/1907
26 Daniel Samuel Stroud : Service No. 23/922
27 No Victorian birth registration has been found for Daniel Samuel Stroud in 1878.
---
The woman stood in the witness box at the City Court and faced His Worship, Mr Call. It was Valentine's Day, 14 February 1884, but Mr Call's scathing comments carried no terms of endearment: "You're not fit to be spoken of as a creature, let alone a woman." Who was this woman and what had she done to earn this epithet? 1
On a summer evening in December 1883, two young men named Edward Meaker (Maker) and Albert Fox were walking home. As they approached the Carlton Refuge in Keppel Street, they were astonished to see an infant, wrapped in newspaper, lying on the footpath the near the doorstep. The Carlton Refuge was a home for "fallen women", not a foundling home, but possibly a mother in desperate circumstances had left the infant there in the belief that it would be cared for. The little waif could have died overnight from exposure or lack of nourishment, so Mr Meaker carried him to the nearest police station. Sergeant Dalton took charge and sent the infant to the "industrial schools", an institution for the care of neglected children. He was subsequently placed in foster care with Eliza Smith of Sandridge (Port Melbourne). Enquiries were made and within a few days the infant was identified as Arthur George Wright, the five month old son of Martha Letitia Wright. 2,3
Martha Wright (née Gillon) was an American-born widow from country Victoria, and she had moved to Melbourne following the death of her husband, Philip Wright. They were married at Christ Church, Castlemaine, in February 1870 and had six children, of whom two (Philip and John) died in infancy. The youngest child, Phillippa, was born in Prahran in January 1880, seven months after the death of her father. Philip Wright was an engineer and he worked in the mining districts of Victoria. He died at Castlemaine on 5 July 1879 at the age of 42 years and, as he left no will, letters of administration were granted to his widow Martha as sole beneficiary. The estate was valued at £318, 15 shillings and 10 pence, the balance of which was a life insurance policy of £200 with the Mutual Provident Assurance Society. 4,5,6,7
Within weeks of Philip's death, the sale of the household furniture and effects – tables, chairs, couch, carpets, double and single iron bedsteads, chest drawers, washstands, dressing tables, copper boiler, kitchen utensils, etc. – was advertised in the Mount Alexander Mail. Martha, with three young children (Francis, Mary and Ralph) and another on the way, had made the decision to sell up and leave Castlemaine for Melbourne. In January 1882, Martha became licensee of the Newmarket Hotel in Elizabeth Street, Carlton. She held the licence for just over a year, when it was transferred to Henry Long in April 1883. Martha would have been about six months pregnant at the time and she gave birth to another son, Arthur George Wright, in Richmond in July of the same year. 8,9,10,11
On Tuesday 7 December 1883, Martha was arrested at Royal Arcade in the city and charged with having unlawfully abandoned her male child five months old. At the City Court on the following day, she initially denied that the abandoned child was hers, claiming she had looked after him for his mother, a woman named Emma (Emily) Harper. However, she refused to disclose Emma's address and several witnesses testified that Martha had a child about the same age as the one found near the Carlton Refuge. Besides, the birth of Arthur George Wright had been registered under his mother's married name, with an unknown father. Martha was remanded to appear in Carlton Court on Wednesday 19 December, where she was committed for trial in the new year. In the meantime, Martha did not take her son Arthur home and he remained in the care of Eliza Smith.12,13,14,15
Martha was back in court on 4 February 1884, to face charges of abandoning a child under the age of two years, whereby its life was endangered, and with exposing the child, whereby its health was liable to be permanently injured. Judge McFarland conceded there was no doubt that Martha had abandoned her child in Carlton, but he left it to the jury to decide whether her intention was that the child should be discovered and cared for by others. The fact that the child was found in a public street near the Carlton Refuge supported her case. The jury was sympathetic to the plight of a poor widowed mother and found her not guilty. Martha was cleared of the charges, but the future of her son was yet to be decided, and this is how she incurred the wrath of Mr Call. 16
If Martha expected a sympathetic hearing from Mr Call a few days later, she was sorely mistaken. When questioned, Martha stated that she would lose her employment situation if she had to nurse her child, and she had not taken out a maintenance order against the father of her child, which would have helped relieve the financial burden. Mr Call was unimpressed with Martha's demeanour and her lack of interest in her child. He adjourned the case for another month, in the hope that Martha might develop some maternal feeling for her child. But when Martha returned to court in March, she was unrepentant and did not want to take her child back. Mr Call did not hold back on his condemnation of Martha as a heartless mother:17,18
"You're as unmotherly a creature in petticoats as has ever been seen in this world. I was going to say that you had no more feeling than a dog towards its puppies, but a dog has some affection for its young. You evidently have none, not caring to kiss your child, or even look at it." 19
Mr Call would have preferred to sentence Martha to 12 months' imprisonment, but this was beyond his jurisdiction. Instead, he committed her innocent son Arthur George Wright to the industrial schools for a period of seven years. Arthur's record in the Children's Register shows that he spent the rest of his childhood in various foster care placements and there is no indication that Martha had any contact with him once he was committed. Martha's elder daughter Mary died in the same year as Arthur's commitment in 1884, at the age of 10 years.20,21,22

Was Martha really the heartless mother she was made out to be? Life had dealt her some heavy blows. She had lost two children in infancy, then her husband in 1879, leaving her a widow with the care of four young children. A few years later, she found herself pregnant with another man's child. Could Martha's emotional detachment from this baby be explained as a symptom of postnatal depression, the effects of which are now known to persist for months, even years, after birth? Martha lived at a time when motherhood was venerated, but women who did not conform to society's ideal were condemned as "bad mothers". Perhaps history will not judge Martha so harshly.

Notes and References:
1 The Herald, 14 February 1884, p. 2
2 The Age, 8 December 1883, p. 5
3 The Children's Register for Arthur George Wright gives his date of birth as 4 July 1883. (No. 14630, VPRS 4527)
4 Biographical information has been sourced from birth, death and marriage records.
5 Leader, 5 March 1870, p. 27
6 The Age, 11 July 1879, p. 1
7 Letters of Administration, 19-328, 1879 (VPRS 28)
8 Mount Alexander Mail, 22 July 1879, p. 3
9 The Argus, 18 January 1882, p. 4
10 The Argus, 4 April 1883, p. 10
11 The Newmarket Hotel was located on the narrow triangular piece of land at the intersection of Elizabeth, Leicester and Victoria streets, Carlton. During Henry Long's term as licensee, the Newmarket Hotel was renamed the Three Points Hotel. The hotel was acquired by the Colonial Bank of Australasia in 1885 and demolished to make way for a new bank building.
12 The Herald, 8 December 1883, p. 2
13 Birth registration No. 19032/1883
14 Weekly Times, 22 December 1883, p. 11
15 Children's Register No. 14630 (VPRS 4527)
16 Mount Alexander Mail, 5 February 1884, p. 3
17 The Herald, 14 February 1884, p. 2
18 The child's father was not named in court, but he appears in the Children's Register as a plumber named "Frederick George Wright". It is something of a co-incidence that he had the same surname as Martha's married name.
19 The Herald, 13 March 1884, p. 2
20 The Argus, 14 March, 1884, p. 10
21 Children's Register No. 14630 (VPRS 4527)
22 Death registration No. 2522/1884

---
Marry in Haste, Repent at Leisure
A hasty marriage, an unexpected birth and a tragic discovery at the cemetery – all this happened within a few weeks in April and May of 1884. On the afternoon of 12 May 1884 Joseph Walkerden, a bricklayer, was near the Melbourne General Cemetery when he saw a woman drop something over the fence. His suspicions aroused, he alerted police and went to the cemetery with Constable Walters to investigate. They found a cigar box lying on the ground and, on opening the box, discovered the dead body of an infant. Constable Walters took charge of the body and delivered it to the Melbourne Hospital for a post mortem examination. Mr Walkerden gave a description of the woman, initially believed to be the infant's mother, to the police. She was tracked down and arrested, then the truth – or at least part of the truth – came out. Catherine Howard, aged 43 years, was not the mother of the infant, but a nurse who had attended the birth. She claimed the infant was stillborn and she admitted having disposed of the body in the cigar box "to oblige another woman". Nurse Howard was remanded in Carlton Court for seven days while police continued their investigations. They had to establish whether there were any suspicious circumstances surrounding the infant's death.1
The inquest was held at the Melbourne Hospital on Thursday 14 May. Susan Copeland, the woman identified as the mother, stated that she had given birth to a stillborn female infant on 11 May and was attended by the nurse Catherine Howard. A doctor was not called in to certify the stillbirth. Susan Copeland had given Catherine Howard the sum of £1 to arrange burial of the child, with the proviso that she could return for more money if required. As the nurse did not return, Mrs Copeland assumed that the burial had been completed as per her wishes, and she only found out about the body in the cigar box when she read it in the newspaper. The doctor who conducted the post mortem examination found that the infant was born prematurely at about six or seven months' gestation. There were no marks of violence or any evidence of injury on the body. He could not say definitely whether or not the infant had breathed, but he believed that she would not have lived. The coroner, Dr Youl, found that the infant was stillborn and the jury returned the same verdict. According to this finding, neither Susan Copeland nor Catherine Howard was in any way implicated in the death of the infant, and there was no charge of infanticide or murder to answer.2
However, Catherine Howard's actions in accepting the payment, then failing to give the child a proper burial, were both dishonest and dishonourable. A week later, on 21 May, she appeared in Carlton Court to face a charge of concealment of birth, an offence under the Crimes Act. This was a lesser charge than the capital crimes of infanticide or murder, but it still carried a prison sentence. Fortunately for Catherine, the case was dismissed in a matter of minutes. The Bench, comprising Messrs Conroy and Showers, took a merciful view, and considered that she had erred through ignorance and not through criminal intent. Co-incidentally, the hearing was scheduled on the same day that Susan Copeland sought a maintenance order against her husband, Nathaniel Copeland. Newspapers at the time did not report whether there was any interaction between the two women at the court but, given their recent history, it was unlikely to be cordial. 3
The maintenance case revealed the extraordinary circumstances of the marriage of Susan Reed, as she called herself, to Nathaniel Copeland. They had married in Carlton on 28 April 1884, after a whirlwind courtship of only a few weeks. Nathaniel Copeland, a dealer, had met Susan by chance at the Swan Hotel in Fitzroy. Irish-born Susan was an attractive woman in her twenties and Nathaniel admitted he was "struck" by her. Susan told Nathaniel that she was a widow, her husband having died three years previously in Adelaide. She was in receipt of an income of £1 per week and was entitled to a legacy. The marriage was registered by John Glennon of Drummond Street, Deputy-Registrar for Carlton, and William Fogg, a cabdriver, was present as a witness. Within two weeks of the marriage, Susan Copeland gave birth to the stillborn infant that Catherine Howard threw over the fence into the cemetery. Did Nathaniel Copeland even know that his new wife was pregnant at the time of their marriage? Had she tried to trick him into accepting another man's child as his own? Whatever his reasons, Nathaniel had allegedly kicked Susan out of the house and left her destitute.4
Nathaniel claimed that he had given Susan money amounting to £45, two thirds of which she had spent buying stock for a shop. He was unemployed at the time of the maintenance case and surviving on an income of about ten shillings and sixpence a week. He considered that his wife's independent income of £1 per week – almost twice his current income – should be adequate to cover her living expenses. The Bench made a maintenance order for five shillings a week, with 26 shillings costs. The honeymoon was well and truly over and Nathaniel Copeland must have rued the day he first caught sight of Susan Reed in the Swan Hotel. Nathaniel and Susan Copeland continued to live apart and in December 1885, at Nathaniel's instigation, a formal deed of separation was drawn up by solicitor James McKean and signed by both parties. This document set off a chain of events that ultimately saw Susan Copeland imprisoned on a charge of bigamy.5
In April 1886, two years after her marriage to Nathaniel Copeland, Susan made the acquaintance of Daniel Moroney (Maroney). In a repeat performance of her courtship with Nathaniel Susan, now using the name "Alice Rehde", told Daniel that she was a widow and her husband had died four years previously. Daniel, an older man, had taken over the licence of the King's Arms Hotel in Lygon Street in April 1885 and he probably thought that an attractive young wife at his side would be a boon to business. They were married on 10 May 1886, and this time they had a church wedding at St Georges chapel in Drummond Street, Carlton. The ceremony was conducted by the Rev James O'Connell, in the presence of Daniel Carrol and Kate Murray as witnesses. The newly married couple had six weeks of wedded bliss before Susan's duplicity was exposed. She was arrested at the King's Arms Hotel on 23 June 1886 and appeared in Carlton Court a week later to answer a charge of bigamy. Susan was committed for trial at the Supreme Court and granted bail of £100.6,7,8
The bigamy case was widely reported in local and interstate newspapers. As often happens when the defendant is a woman, the reporting commented on Susan's physical appearance. She was variously described as "a very pleasant-featured woman, well dressed, and of very respectable appearance" and either "25 years old" or "35 years old" or "middle-aged". None of these age descriptions tallied with Susan's birth year of 1858, as stated in her prison record. Did Susan lie about her age as well as her name and marital status? The sometimes tearful woman was not represented in court and her primary defence was the wording of the separation agreement, and her belief that the document constituted a legal divorce and rendered both parties free of any future obligation to each other.9,10,11,12
"The said Susan Copeland shall henceforth, during the life of the said Nathaniel Copeland, live separate and apart from him as if she were sole and unmarried, and shall be free and discharged from the power, control, restraint, authority, and government of the said Nathaniel Copeland, and he will not and shall not in any way personally or by procurement annoy or molest her, or in any way interfere with her as to the place or places where she may live or reside, or her manner of living, or with any person or persons with whom she may reside, nor require, or by any proceedings of nature, attempt or compel her to return to cohabitation with him, but that she shall have full liberty to go where, and reside with such person or persons as she may from time to time think proper."13
Mr Justice Higinbotham of the Supreme Court accepted that the agreement may have misled Susan into thinking she was free to marry, but she had failed to disclose to Daniel Moroney that she had married Nathaniel Copeland in 1884. She had also deceived Moroney by using the name "Alice Rehde", instead of her legally married name of "Susan Copeland". Justice Higinbotham considered that Susan's plea of ignorance was no valid defence and, after a short deliberation, the jury found her guilty of bigamy. James McKean, the solicitor who had drawn up the separation agreement, appeared at the sentencing hearing two days later on 30 July. He explained his absence from the court on a previous occasion by stating that he had been engaged in another case at Collingwood Court on the same day. Mr McKean gave the rather lame excuse that he thought his client had fully understood the terms of the agreement but, in hindsight, he should have explained that the agreement did not constitute a legal divorce, nor was he in a position to grant a divorce. Justice Higinbotham thanked Mr McKean for his explanation and sentenced Susan Copeland to three months' imprisonment. According to the Victoria Police Gazette, she was released from prison in the week ending 18 October 1886.14,15
After her sensational bigamy trial and subsequent imprisonment, Susan Copeland seemed to disappear from public view. She may have changed her name or possibly found another gullible man to marry. Nathaniel Copeland died in July 1907. Daniel Moroney held the licence of the King's Arms Hotel until September 1886, when it was transferred to William Edwards, and Moroney was declared insolvent. The hotel was later renamed the Horseshoe Hotel and it was delicensed in December 1925. Joseph Walkerden, the man who alerted police to the grim discovery in Melbourne General Cemetery in May 1884, committed suicide at his home in Reeves Street, Carlton, in November 1898.17,18,19
Notes and References:
1 Fitzroy City Press, 17 May 1884, p. 3
2 Inquest Deposition File No. 448-1884 (VPRS 24)
3 Fitzroy City Press, 24 May 1884, p. 3
4 Marriage Reg. No. 3496 / 1884
5 The Herald, 21 May 1884, p. 3
6 Susan's marriage to Daniel Moroney was registered under the name "Alice Rehde" (Marriage Reg. No. 2690/1886)
7 The Age, 25 June 1886, p. 7
8 The Age, 1 July 1886, p. 7
9 The Herald, 27 July, p. 2
10 Evening News, 25 June 1884, p. 6
11 Fitzroy City Press, 3 July 1886, p. 3
12 The Argus, 1 July 1886, p. 7
13 The Argus, 31 July 1886, p. 12
14 The Argus, 31 July 1886, p. 9
15 Victoria Police Gazette, 20 October 1886. Prisoners reported as discharged from penal establishments in the week ending 18 October 1886.
Susan is described as 5 feet 4 inches tall, with a fresh complexion, fair hair and blue eyes.
17 Probate File No. 103/487, 1907 (VPRS 28)
18 Index to Defunct Hotel Licences (VPRS 8159)
19 Inquest Deposition File No. 2400-1898 (VPRS 24)

---
In 1915, John Moran was one of many young Australian soldiers who died, but his name was not honoured amongst the fallen. He did not die a heroic death on the battlefield, or in a military hospital from injury or disease. Instead, he died trying to escape from a thwarted burglary attempt at the North Carlton Drill Hall in McIlwraith Street. John Moran did not give his life for his country, he gave it for a few pounds in cash and cheques.
On the morning of 17 February 1915, Richard Rockett was making preparations for the day's work. He was a carrier living in Wilson Street, Princes Hill, and he kept his horses in a vacant paddock next to the North Carlton railway station. Having collected the horses, he walked back along Wilson Street and, shortly after 6.00 am, he noticed a man in a soldier's uniform lying face downwards on the ground opposite the drill hall. He thought the man was asleep – possibly sleeping off the effects of a night's drinking – and went to wake him. The man was unresponsive but, because his body was still warm, Rockett hastened to fetch Dr Howard, who lived nearby. It was too late, all Dr Howard could do was certify the death. The police were called in and they were soon able to connect the deceased man with events of two hours before at the drill hall. The man had been shot by Sergeant Major Charles Kerry at about 4.30 am and he had slowly bled to death from a bullet wound in the back.1,2
The shooting of a soldier by an army officer on Australian soil was sensational news, with headlines proclaiming: "Soldier-burglar shot dead" and "Sergeant Major's deadly aim". The soldier was identified as nineteen year old John Patrick Moran, a member of the Expeditionary Force. His father, Nicholas Moran, faced the grim task of formally identifying the body at the city morgue. Mr Moran, having lost his wife Mary Ann in 1895, had been dealt another blow. When John was born in Port Melbourne in 1895, the birth was not the happy event that his family may have wished for. His mother Mary Ann Moran (née Stafford), developed septicaemia after giving birth and died on 29 September, when John was just 15 days old. He was baptised on the same day that his mother died, and she was buried two days later in Melbourne General Cemetery. John and his brother James, who was 2 years older, may have spent some time in care, as they had a foster mother, Mrs Kathleen Kelly, living in Trinity Street, Brunswick. When World War 1 was declared, John was one of the earliest enlistments (no. 134) on 17 August 1914. He gave his trade or calling as "engineer" and nominated his brother James as next of kin. John was single at the time of his enlistment, but a few weeks later he married Rose Ellen Strattan at the Church of England, Glenlyon Road, Brunswick on 9 September 1914. As his wife, Rose was allocated ⅖ ths of John's army pay.3,4,5,6,7
John Moran was assigned to the 7th Battalion, which was raised by Lieutenant Colonel H.E. "Pompey" Elliott within a fortnight of the declaration of war. On Wednesday 19 August 1914, John joined thousands of volunteers marching the twelve miles from Victoria barracks in St Kilda Road to Broadmeadows, then a farming area northwest of Melbourne. The streets were lined with cheering crowds and newspaper reports commented on the camaraderie amongst the volunteers and the egalitarian nature of the march, where "bank clerk and bricklayer, public school man and navvy, will be swallowed up in the universal khaki." After leaving the city proper, the volunteers headed north towards Sydney Road, where they stopped near Carlton Oval in Princes Park for lunch, finally arriving at the Broadmeadows Camp in the late afternoon. Accommodation in the hastily erected camp was basic, with no permanent huts, and soldiers had to sleep in crowded tents, often in cold, wet and muddy conditions. John Moran had five years' experience as a school cadet, and many of his fellow recruits would have had some form of compulsory military training between the ages of fourteen and eighteen years. They settled into an intensive training routine of physical drill, squad drill, rifle exercises and lectures.8,9,10,11
After two months of preparation for war, the 7th Battalion embarked for Egypt, via Albany in Western Australia. The soldiers boarded a train at Broadmeadows station early on Sunday 18 October and headed for Port Melbourne, where they marched down the pier to HMAT Hororata. They were joined by the 6th Battalion and the ship left Port Phillip Bay the following morning. But where was John Moran? His name does not appear on the embarkation roll and his father later thought that a motor car accident could account for his not being on active service. However, there is nothing in his service record to indicate any such accident or his being medically unfit for duty. Nor is there any indication of misconduct or absence without leave. John Moran's service record is notable for its lack of information – he seems to have disappeared without anyone in authority noticing. Had the rush of excitement he felt on enlistment given way to the harsh reality of training for war? An annotation, added after his death, simply states: "Deserted for a considerable period prior to being killed" and the circumstances of his death are recorded by a newspaper clipping. The last family member to see John alive was his father, Nicholas Moran. According to Mr Moran's inquest statement, John had visited him at Port Melbourne on 6 February. He mentioned a motor car accident and, as he was short of money, Mr Moran lent him £1.12,13,14
The North Carlton drill hall, located in McIlwraith Street north of Pigdon Street, was opened in January 1915. Within the first month two burglaries had taken place, on 31st January and on or about 7 February. The timing of the second burglary a day or two after John Moran's visit to his father was no coincidence. He was, by his own admission, short of money and may have seen the drill hall as an easy target. When Moran's clothing was searched, he was found in possession of multiple sets of keys, some of which fitted locks at the drill hall and the North Carlton bowling club, and two cheques stolen previously from the drill hall. After the second burglary the Commanding Officer gave orders for the drill hall to be watched overnight. As well as items of monetary value – cash, cheques and railway travel vouchers – important military documents were stored there. Australia was at war and if these documents fell into the wrong hands the consequences could be disastrous.15,16
On the evening of 16 February, the two officers allocated for night watch did not turn up for duty, so Warrant Officer John Francis Brady arranged for Sergeant Major Charles Kerry to stay overnight. He was issued with a rifle and ammunition and his instructions were to apprehend any intruder and notify Detective Mercer of Victoria Police. Charles Kerry was asleep on a camp bed when he was woken by a noise at about 4.30 am. He saw a light switched on in the Commanding Officer's room and went to investigate, then the light was suddenly switched off. An intruder was on the premises and he or she had to be stopped. Kerry called out "Hands up", and in the darkness he saw a figure running towards the main entrance. He fired a shot, but the intruder kept running and exited the building, slamming the main door behind them. Charles Kerry had to make a split second decision. Should he go after the intruder or return to his post and secure the premises? He chose the latter and John Moran's fate was sealed. Kerry telephoned the North Carlton police, who arrived at 4.45 am and made a search of the premises and surrounding area. They found nothing amiss, so Sergeant Major Kerry finished his shift at 5.00 am and went home, not knowing that he had shot a man who lay dead or dying less than 100 yards from the drill hall.17
What were John Moran's final thoughts as he lapsed into unconsciousness from loss of blood? Did he think of his family – his wife Ellen, his father Nicholas, his foster mother Kathleen and his brother James – or of the folly of committing a petty crime that would end his life? Had circumstances been different, his life may have been saved with prompt medical assistance. If the two allocated officers had turned up for duty on the night, one could have gone after the intruder while the other secured the premises. If the police had been more thorough in their search, John Moran's body may have been found earlier. But there was a practical limit to the search area the police could cover in the dark hour before dawn. Had John Moran's life had been saved, he would have faced a court martial and, most likely, a custodial sentence in a civilian prison. Instead, he was laid to rest in an unmarked grave at Fawkner Cemetery the next day on 18 February 1915.18
The inquest was held a week later on 25 February and reporting of the verdict was as sensational as that of the shooting incident. The Coroner, Dr R.H. Cole, heard evidence from Dr Mollison, who performed the post mortem examination, Sergeant Major Charles Kerry, Warrant Officer John Francis Brady, Nicholas Moran, Ellen Moran, Richard Rockett, Detective Mercer and the police officers who attended the scene. No other representative from the armed forces was called to give evidence. Dr Mollison described, in clinical detail, the "small rounded penetrating wound … to the right of the midline" and gave the cause of death as haemorrhage from a gunshot wound in the lower back. Warrant Officer Brady recounted the events of the night before the shooting, his instructions to apprehend the offender and that he had issued Sergeant Major Kerry with a rifle and ammunition because the offender could be armed. It was then Charles Kerry's turn to give evidence. He stated that, upon hearing the disturbance, he had taken the loaded rifle "with the object of capturing the intruder" and he had fired at the retreating figure "in order to bring him to a stand." The Coroner found "… that John Moran died from a gunshot wound in the body … and the said wound was inflicted by Sergeant Major Kerry in the execution of his duty and advancement of law." The shooting of John Moran was justified and Sergeant Major Charles Kerry was fully exonerated. 19
Two months after the inquest, on 25 April 1915, John Moran's fellow soldiers of the 7th Battalion landed at Gallipoli and an Australian legend was born. John's brother James Joseph Moran enlisted soon afterwards on 21 June 1915. He was assigned to the 21st Battalion and, like his brother, he trained at Broadmeadows Camp. James saw active service in Europe and he was awarded the military medal for bravery in the field in 1918. He returned to civilian life and lived in Brunswick, while his father Nicholas Moran remained in Port Melbourne. Nicholas died in June 1935 and James in August 1970. Both father and son are buried with Mary Ann in Melbourne General Cemetery, near the north gate and only a few blocks away from the drill hall where John breathed his last breath. James Michael Stafford, possibly a relative from Mary Ann's family, was buried with John Moran at Fawkner in 1973.20,21,22,23
The North Carlton drill hall served its purpose during the war years and was relocated elsewhere on the site after World War 1. Part of the former council land bounded by Pigdon, McIlwraith, Wilson and Holtom Streets was released for educational purposes in December 1920. The school that later became known as Princes Hill Primary School was built there and opened on 16 April 1924. The land north of the school was retained for use by the army during World War 2, and the army reserve through to the 1990s, when the drill hall was permanently removed. The vacant land was enclosed in a cyclone wire fence while the Commonwealth Defence Department considered its disposal. It was prime real estate land, close to parks and schools, and could fetch a high commercial price. However, local residents and school groups favoured the land being made available for community and school use. Another proposal to build a sports stadium on the site was rejected. Both proposals would have required a considerable financial contribution from the Victorian Government. In the end, money won out. The land was released for residential development in 1998 and townhouses were built on the site.24,25,26,27,28,29
Related Item: Carlton in the War
---
Notes and References:
1 Statement by Richard Rockett, dated 25 February 1915, in Inquest Deposition File, no. 1915/266 (VPRS 24)
2 Statement by Senior Constable Olney, dated 17 February 1915, in Inquest Deposition File, no. 1915/266 (VPRS 24)
3 Statement by Nicholas Moran, dated 25 February 1915, in Inquest Deposition File, no. 1915/266 (VPRS 24)
4 Biographical information has been sourced from birth, death, marriage and baptism records.
5 The Age, 18 February 1915, p. 7
6 Attestation paper of John Moran (NAA: B2455, MORAN JOHN)
7 Statement by Rose Ellen Moran, dated 25 February 1915, in Inquest Deposition File, no. 1915/266 (VPRS 24)
8 H.E. "Pompey" Elliott was nicknamed after Fred "Pompey" Elliott, captain of the Carlton Football Club from 1908-1911. (Blueseum.org)
9 The Argus, 20 August 1914, p. 6
10 Our dear old battalion : the story of the 7th Battalion AIF, 1914-1919. Ron Austin, Slouch Hat Publications, 2004.
11 The Defence Act of 1909 prescribed junior cadet military training for males from twelve to fourteen years of age and senior cadet training from fourteen to eighteen years of age. Cadets could be fined or detained for failing to attend training. School premises were often used for training purposes and after hours training was available for senior cadets in the workforce.
12 The Seventh Battalion A.I.F. : Resume of activities of the Seventh Battalion in the Great War 1914-1918. Arthur Dean and Eric W. Gutteridge, 1933
13 Attestation paper of John Moran (NAA: B2455, MORAN JOHN)
14 Statement by Nicholas Moran, dated 25 February 1915, in Inquest Deposition File, no. 1915/266 (VPRS 24)
15 Brunswick and Coburg Leader, 8 January 1915, p. 1
16 Statement by Warrant Officer John Francis Brady, dated 25 February 1915, in Inquest Deposition File, no. 1915/266 (VPRS 24)
17 Statement by Sergeant Major Charles Kerry, dated 25 February 1915, in Inquest Deposition File, no. 1915/266 (VPRS 24)
18 Fawkner Memorial Park records
19 Inquest Deposition File, no. 1915/266 (VPRS 24)
20 The Seventh Battalion A.I.F. : Resume of activities of the Seventh Battalion in the Great War 1914-1918. Arthur Dean and Eric W. Gutteridge, 1933
21 Attestation paper of James Joseph Moran (NAA: B2455, MORAN JAMES JOSEPH)
22 Melbourne General Cemetery records
23 Fawkner Memorial Park records
24 North Carlton Lands Act, no. 3114, 24 December 1920
25 Prinny Hill : The State Schools of Princes Hill 1889-1989. Nicholas Vlahogiannis, 1989
26 Yarra Leader, 31 October 1994
27 Yarra Leader, 14 November 1994
28 City Alternative News, May 1995
29 The Age Property, 26 August 1998, p. 5
---
September 2019 marks the 85th anniversary of one of the most sensational cases in 20th century Australian criminal history. The story of the so-called "Pyjama Girl" has been told many times over – in newspapers, books, television, film and on stage – and the romantic notion of a young woman in silk pyjamas has, to some extent, overtaken the harsh reality of her brutal death. Her public story began on the morning of 1 September 1934, when a woman's partly burnt body was found stuffed into a culvert on the Howlong Road, near Albury in New South Wales. Her body was dressed in the tattered remains of oriental-style pyjamas, hence the name "Pyjama Girl". She had suffered extensive head injuries, from multiple blows, and a post-mortem examination revealed a bullet wound in her neck. New South Wales police faced the daunting task of identifying the woman, who could be any one of a number of missing women on record at the time. The Pyjama Girl body's was embalmed and transferred to Sydney University, where she lay, preserved in formalin, in a zinc-lined coffin for nearly ten years. Her face was made up to appear more lifelike and she was viewed by hundreds of people – family, friends and workmates of missing women and even the man later charged with her murder – but no conclusive identification was made.
A major breakthrough came in March 1944, when the New South Wales Commissioner of Police, William John MacKay, elicited a confession from an Italian man named Antonio Agostini. At the time of his confession, Antonio was a recently-released World War 2 internee and he was working at the well-known Romano's restaurant in Sydney. Ten years earlier, in 1934, he was living with his wife Linda above a shop in Swanston Street, Carlton. He stated that Linda had pointed a gun at him and she had been accidentally shot when he tried to disarm her. Antonio had waited until nightfall then he loaded Linda's body, wrapped in a towel and sacking, into his car and drove through the night to New South Wales. He dumped the body in the culvert, doused it with petrol and set fire to it in order to prevent identification. (His mistake was not knowing that the human body has a high water content and is not easily burnt.) Antonio Agostini was charged with murder and, as the crime had been committed in Victoria, he was extradited to Melbourne to face trial. This placed the death scene in an upstairs bedroom of 589 Swanston Street, Carlton, the business address of the Italian newspaper Il Giornale Italiano, where Antonio worked as a journalist and agent for the newspaper.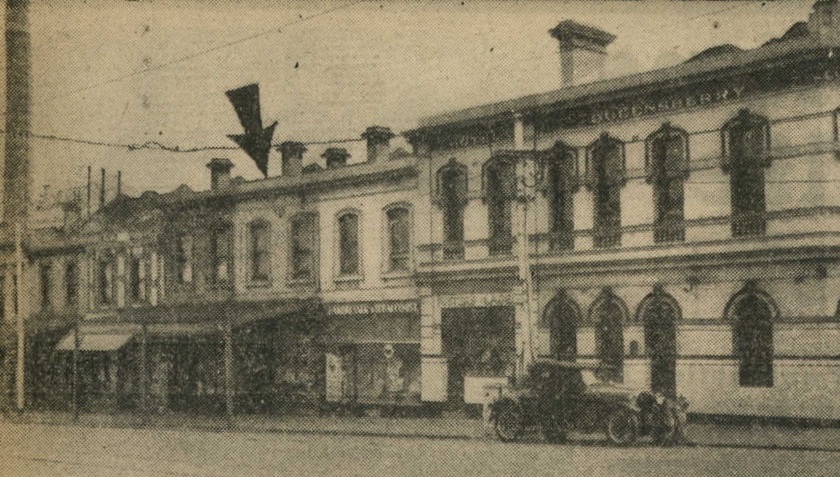 Image: The Herald, 27 March 1944, p. 3
The death scene at 589 Swanston Street, Carlton (marked with arrow).
The Queensberry Hotel (cnr. Swanston & Queensberry Streets) is on the right.
The Pyjama Girl's body was transferred to the Melbourne City Morgue, where she was kept under guard as crucial evidence in the murder investigation. She was subjected to another post-mortem examination and inquest, held over multiple sittings from 23 March to 2 May 1944. The purpose of the second inquest was threefold: To establish the identity of the Pyjama Girl, to determine the cause of her death and who (if anyone) was responsible for her death. Whoever she may have been in life, the Pyjama Girl's body was laid bare in death. The physical evidence of her dental fillings, the colour of her eyes (blue, brown or hazel?), the shape of her hands and ears, and even the size and shape of her breasts was presented in clinical detail. One witness, Mrs Jeanette Routledge from Bomaderry, New South Wales, was convinced that the Pyjama Girl was her daughter, Anna Philomena Morgan, who she last saw in 1930. Her claim was supported by Dr Palmer Benbow, who presented evidence based on a detailed photographic comparison of facial features of both women. Mrs Routledge proved to be an unreliable witness and, under questioning, she admitted that she had given false information to police in order to avoid implicating herself in her daughter's disappearance. At the conclusion of the inquest the coroner, Mr Tingate, identified beyond reasonable doubt that the Pyjama Girl was Linda Agostini and that she had been killed by her husband Antonio Agostini. He committed Antonio Agostini for trial on a charge of murder.
The murder trial took place before Justice Lowe in the Supreme Court of Victoria, commencing 19 June 1944, and Antonio pleaded not guilty to the murder of his wife. The private lives of Antonio Agostini and Linda Platt were made open to public scrutiny. Italian-born Antonio and English-born Linda were married in Sydney in 1930. They were an attractive couple and Linda, who had worked as a hairdresser, was always well groomed. But, according to Antonio, Linda had a dark side, particularly when she drank to excess, and she had left him for months at a time. Early one morning, on or about 27 August 1934, Antonio woke to find Linda pointing a gun at his head and she was accidentally shot during the ensuing struggle. Antonio later threw the weapon in the Yarra River and the only remaining physical evidence of the shooting was the bullet extracted from Linda's neck. However, according to the post-mortem report, the bullet wound was not the cause of death. Instead, the multiple injuries on the left side of her head saw Linda's demise. Antonio explained the head injuries by stating that he had accidentally dropped Linda's body while he was carrying her down the stairs and that she had hit her head on a heavy object at the bottom of the staircase. If Antonio's statement was true and correct, it is a chilling thought that Linda may have still been alive when he dropped her body on the stairs.
Could the accidental shooting and the accidental dropping of the body on the stairs be too much of a coincidence? This was crucial in deciding Antonio's fate. If the bullet wound had caused Linda's death, Antonio could plead self defence, which could, in turn, lead to an acquittal. However, the inquest had established that the head injuries, so severe that part of Linda's skull had caved in and exposed her brain, were the cause of death. The injuries were consistent with multiple blows, rather than a single impact with a hard object, suggesting an intentional act of violence resulting in death. The text of Antonio's confession is reproduced verbatim in Richard Evans' book The Pyjama Girl Mystery, and nowhere in this carefully worded and detailed account of Antonio's actions does he mention dropping the body on the stairs. This omission, and other inconsistencies in Antonio's stated evidence, pointed to a murder conviction and possible death sentence. But there were also alleged procedural irregularities by New South Wales police in obtaining Antonio's confession and suggestions of a deal being done in order to close the long-running case. If these allegations were proven, the case could have been thrown out of court. The jury had much to consider when they retired on 28 June 1944. Was Linda Agostini the victim of an accidental death or of extreme domestic violence? After nearly 2 hours' deliberation the jury found Antonio Agostini not guilty of murder, but guilty of manslaughter.
Two days later, on 30 June 1944, Justice Lowe sentenced Antonio Agostini to six years imprisonment, with hard labour, to be served at Pentridge Prison in Coburg. This was not the first time Antonio had been in detention since his arrival in Australia in 1927, though the circumstances were very different. Just before the outbreak of World War 2 in August 1939, he came to the attention of the Commonwealth Investigation Branch for his former membership of the Fascist Party and his self-description as "a Fascist at heart". His dossier included the statement "Married: Wife deserted five years ago. Her whereabouts are not known." Antonio was living the lie of his wife's disappearance. His name appeared on a security list of Italians recommended for internment in the event of hostilities with Italy. He was "captured" at Darlinghurst, Sydney, in June 1940 and interned as an enemy alien. During his internment, Antonio made an unsuccessful application to be repatriated to Italy, in a reciprocal exchange with British journalists stranded by war in that country. Antonio Agostini was finally released from internment in February 1944, when he was deemed medically unfit for the Civil Aliens Corps, and transferred from the Wayville internment camp to Sydney. A month later, in March 1944, the nightmare of the Pyjama Girl case had begun.
Antonio served four years of his six year manslaughter sentence, with remissions for good behaviour and as part of a general post-war amnesty for former internees. While technically a free man, he faced a deportation order on his release from prison. He was detained in Pentridge until the next available ship bound for Italy was due to depart from Port Melbourne. Antonio's departure was not without drama. His transfer from Pentridge to the ship Strathnaver took place in the early hours of the morning on 22 August 1948. Immigration officials were anxious to avoid a "media scrum", but some news reporters managed to photograph and communicate with Antonio on board. Antonio was closely guarded until the ship left Port Melbourne on the next day, 23 August 1948 and, once at sea, he was free to move about the ship and mingle with other passengers. He returned to his homeland of Italy but, with memories of his wife Linda and his incarceration in Australia, would he ever be free? Antonio married Giuseppina Gasoni, a widow, at Cagliari, Sardinia, in December 1952. On 7 September 1959, the Truth newspaper reported that Antonio was making enquiries about returning to Australia, but nothing came of these claims. Antonio Agostini died ten years later, in 1969, and was buried in San Michele cemetery.
Linda Agostini was laid to rest at Preston Cemetery on 13 July 1944. She had no family in Australia and, to save her the final indignity of a pauper's grave, the Victorian government paid for her funeral and burial. Her grave is marked by a simple wooden cross, bearing the name "Linda Agostini" and her years of birth and death in faded letters. But, to this day, a lingering doubt about the true identity of the Pyjama Girl still remains. If the Pyjama Girl had died today, instead of in 1934, her identity could be established by DNA evidence, and modern forensic techniques would confirm whether her head injuries were caused pre- or post-mortem. Life may have been very different for Antonio Agostini.
At the time of the Pyjama Girl's death in 1934, 589 Swanston Street was owned by the estate of Patrick Fagan. The land on the corner of Swanston (formerly Madeline) and Queensberry streets had been in the Fagan family since 1866, and included the re-built Queensberry Hotel and five adjoining shopfronts numbered 583 to 591 Swanston Street. Patrick Fagan died in 1889 and left his considerable real estate to his widow Johanna and children Bridget Ellen and Maurice, as joint proprietors. After their deaths, the estate went to Mary Ann Fagan. She died in 1958 and the entire site was acquired by Carlton & United Breweries in 1966. In 1944, the year of Antonio Agostini's murder trial, 589 Swanston Street was a boot repairer's shop, which was continuously occupied by Andrew Black until 1970. The shops were demolished in 1971 to make way for expansion by the brewery and the site is currently being redeveloped. The Queensberry Hotel, bearing the name "Fagan's Hotel 1890" on the parapet, continues trading on the corner of Swanston and Queensberry streets.
Further Reading:
The Pyjama Girl case was reported widely in newspapers in 1934 when the body was discovered, in 1938 when an inquest failed to establish her identity, and in 1944 when Antonio Agostini was tried and convicted of manslaughter.
The National Archives of Australia files (NAA: B741, V/23163S ; NAA: A367, C69448 ; NAA: A367, C69448 ; NAA: MP1103/1, PWN9001 ; NAA: MP1103/2, PWN9001) include newspaper cuttings on the Pyjama Girl case and correspondence relating to Antonio Agostini's interment during World War 2 and his deportation in 1948.
The Australian Dictionary of Biography gives biographical information on Antonio and Linda Agostini and a summary of the case.
Richard Evans' book The Pyjama Girl Mystery : a true story of murder, obsession and lies (Scribe Publications, 2004) gives a detailed account and interpretation of the case. The author's research draws on police records, as well newspaper accounts and other published sources.
Edward Washington explores the defence of provocation in Crime and punishment : The murder trial of Antonio Agostini (Journal of the History Teachers' Association of NSW, June 2017, p. 23-26).
---
The death of an infant is tragic in any circumstances, but even more so when the death results from want of care and nourishment. Catherine Kennedy, the illegitimate daughter of eighteen year old Mary Ann Kennedy, lived a very short life. She was born in Carlton on 19 January 1899 and died seven weeks later on 11 March. Her death and the subsequent trial of her carer, an unregistered nurse with a criminal record, brought to the fore the notorious practice of "baby farming", condemned by Mr. Justice Hood as "an organised, deliberate and systematic plan of murder".1
The Infant Life Protection Act (1890) came into effect in Victoria in January 1891 and introduced a system of registration of nurses and premises for the care of boarded-out infants. The Act was administered by the police, who had the authority to inspect premises (usually private residences), and the records of nurses and infants in their care. The Commissioner of Police was to be notified when an illegitimate infant was born on the premises, taken into the care of a registered nurse, transferred from one nurse to another, adopted out or died while in care. Penalties, in the form of a fine or prison sentence, applied for failure to comply with notification procedures or recordkeeping. An inquest was mandatory if an infant died in care and criminal charges could be laid if the death was deemed suspicious. Despite the protection afforded by the law, there were unregistered nurses who sought to profit from women in straitened circumstances, who were unable to feed and care for their children. Even when in the care of a registered nurse, the survival of an artificially-fed newborn infant was precarious. In 1899, the year of Catherine's birth, the infant mortality rate in the City of Melbourne was 157 deaths per 1,000 live births, with a greater number of deaths occurring during the summer months. Many of these infants died from what would now be considered preventable diseases and, in the days before refrigeration, poor milk quality and unsuitable feeding were identified as major causal factors. According to medical opinion of the day, illegitimate children were seen as less viable than those born to married parents. A well known Carlton doctor, James De Burgh Griffith of Elgin Street, declared that "nervousness on the part of the mothers of illegitimate children was very much against the children when born".2,3,4
Now to the events that saw Catherine's demise. The main players were Nurse Ellen Mary Fuller, Theresa Thornton and teenage mother Mary Ann Kennedy. Ellen Mary Fuller, a widow, was born in England in 1850. She was a midwife and registered nurse, who advertised maternity and private hospital services at addresses in Rathdowne Street, Carlton and Drummond and Rathdowne Streets, North Carlton. She also occasionally advertised babies available for adoption, or parents seeking babies for adoption. This practice was not illegal at the time, even if money changed hands, provided that the appropriate notifications were made. Nurse Fuller was no stranger to the legal system. In July 1897, she was sentenced to 12 months' gaol with hard labour for her part in arranging the adoption of an infant, who was later found abandoned in Richmond. When questioned by police, she was evasive about the identity of the woman, "Mrs Turner", who had adopted the infant, and it was some months before this woman, Alice Ann Terrill (Tirrell or Tirrell) and her mother, Eleanor Edwards, were tracked down and charged with abandoning and exposing an infant. Nurse Fuller was released early in November 1897 by special authority and, according to evidence presented by Constable William Booth in the Supreme Court in March 1899, she had been exonerated and compensated for her time in gaol. After her release, she was able to resume her nurse's registration and licence to operate a private hospital. Nurse Fuller was living in Elgin Street, Carlton, at the time of Catherine's birth.5,6,7,8
In January 1899, a few days before Catherine was born, Nurse Fuller appeared in Carlton Court as a witness in case involving a woman from Western Australia. Sarah Jane Solley had been staying at Nurse Fuller's residence, with the intention of adopting a baby and presenting it as her own child. (She had been living with a man in Kalgoorlie and possibly thought that the arrival of a baby would cement their relationship.) Sarah procured a baby from Mrs Mary Melville, an unregistered nurse who operated under the name "Nurse Meade" at a house in Cardigan Street, Carlton. Nurse Fuller, when asked to write a letter to Sarah's "husband" declaring that she had given birth, refused to collaborate in the deception. Sarah had lied to police about the infant being hers, but the court took a lenient approach. She was fined £1 for failing to notify the adoption to the Commissioner of Police, an offence could have attracted a maximum fine of £15 or three months' imprisonment. Mary Melville, a peripheral character in this story, is worth noting for the extraordinarily high infant death rate at her premises in Carlton. When she appeared as a witness in an inquest into the death of an infant in December 1898, she admitted that 13 out of 17 infants born at her premises had died.9,10,11,12,13
Marie Theresa Thornton (also known as Theresa Davis and Theresa Flanagan) was born in Germany in 1856 (or 1857) and she arrived in Australia on the Chimberazo in 1883. She worked as a servant and claimed to have been a widow who was once married to a doctor. Under the surname Davis, she married Charles Thornton, a farmer and Englishman from Kent, in 1891 and they lived for several years at Rosedale in Gippsland. Theresa was well known to police. She was imprisoned for six months at Melbourne Gaol in December 1891 for being "idle and disorderly", followed by a conviction for vagrancy and multiple convictions for larceny. The Geelong Advertiser of 23 March 1899 dubbed her as "an accomplished larcenist". When she moved house from Carlton to North Melbourne, possibly to avoid police attention, she entered into a hire purchase contract for a sewing machine, proffered by a door-to-door salesman. She had neither the deposit of 10 shillings, nor the means of making the weekly payments, so she pawned the sewing machine the next day, then tried to onsell the pawn ticket.14,15,16
Nurse Fuller and Theresa had known each other from two years previously, when Theresa had travelled to Melbourne from her home at Rosedale to adopt a child. According to her husband Charles, Theresa had had several children of her own, but they were all dead. Theresa, as her criminal record shows, was a disreputable person and not someone who should be entrusted with the care of a newborn infant, yet she was able to adopt, on two occasions, by arrangement with Nurse Fuller. Little is know of Catherine's mother, Mary Ann Kennedy, apart from her young age and her predicament as an unmarried mother. She came from Tatura, in country Victoria, and was staying with Nurse Fuller during her confinement. Having appeared as a witness in court and been named in newspaper reports, Mary Ann was exposed to public scrutiny. She would have carried the shame of giving birth to an illegitimate child and also, by surrendering this child for adoption, she was indirectly implicated in its death. Was the father of the child there to support her? He was named as James Casey, the brother of Mary Ann's cousin Hannah Casey, in Catherine's adoption agreement, but he was not called as a witness in court proceedings.17,18
The inquest into Catherine Kennedy's death took place over several days in March 1899, before Mr. Candler, the City Coroner, and a jury of five men. Evidence was presented that Catherine was born on 19 January 1899 at Nurse Fuller's residence in Elgin Street and was attended by Dr James De Burgh, also of Elgin Street. Shortly after her birth, Catherine was placed in the care of Mrs Eliza Manders, a registered nurse described as a "respectable woman", who lived in North Carlton. Two weeks later, on 3 February, Catherine was then transferred to the care of Theresa Thornton, who was living in Canning Street, Carlton, at the time. The transfer was arranged by Nurse Fuller and Catherine's mother, Mary Ann Kennedy, paid a lump sum of £7 to Theresa for what she believed was an outright adoption. Having received the infant, Theresa wrote a letter, dated 11 February, to Mary Ann's cousin Hannah Casey, a hotelkeeper of Lancefield, demanding a payment of 10 shillings per week for the care of Catherine, plus expenses, otherwise the child would be handed over to the police. (In making this demand for payment, Theresa was acting as a paid carer, not an adoptive parent and, given her criminal record, it is unlikely she would have involved the police.)19,20
Hannah replied to Theresa's letter and travelled to Melbourne on 17 February to personally discuss Catherine's care arrangements. She had also written to Nurse Fuller, but received no reply, and she had refused to admit her cousin Mary Ann when the latter visited her at Lancefield. Unaware that Mary Ann had already paid a lump sum adoption fee, Hannah paid Theresa the outstanding amount of 24 shillings for 2 weeks' care, plus an additional 30 shillings for clothing, maintenance and the christening of Catherine. Hannah expressed her willingness to adopt Catherine for the sake of her younger brother James, who was not in a position to support the child. Theresa contacted a solicitor, Arthur D. Daley, and made arrangements for a legal agreement to be prepared. According to the terms of this agreement, signed and dated 17 February 1899, Mary Ann agreed to transfer the custody and care of Catherine to Hannah and that "she will make no attempt in the future to resume possession thereof or in any way interfere in the management thereof". Hannah, in turn, agreed to "clothe, maintain, rear and educate the said child as her own" and make no further claim on Mary Ann for Catherine's care or expenses.21,22
The following day, 18 February, Catherine was removed to the care of Mrs Annie Duke, another registered nurse and "respectable woman". She lived in Pitt Street, Carlton, and her services were recommended by Constable William Booth, the officer in charge of registered houses in Carlton under the Infant Life Protection Act. Mrs Duke stated that Catherine was received in an emaciated state and had an offensive smell about her, though she appeared to be washed and clean. Catherine was fed breast milk by a wet nurse for a fortnight, but she failed to thrive. Her feeding regime was changed to cow's milk, barley water, white of egg and brandy on medical advice. (Brandy was commonly prescribed by doctors as a tonic for ailing babies but, as Catherine was already dehydrated from a bowel inflammation, it may well have hastened her death.) Despite Mrs Duke's best efforts in care, and several medical consultations at the Children's Hospital, Catherine died three weeks later on 11 March. Medical evidence presented by Dr. Stawell confirmed that Catherine weighed only 5½ pounds (2.49 kilos) and her death had been caused by inflammation of the bowel, set up by unsuitable feeding. Her post mortem examination showed no sign of external injury and her internal organs, apart from the bowel, were normal in appearance.23
As Catherine was claimed to be healthy at birth and while in the care of Mrs Manders, apart from having a slight touch of thrush, the focus was on the two weeks she spent with Theresa Thornton. Theresa's husband Charles, who claimed to have no knowledge of the £7 adoption payment, stated that he sometimes prepared the food and fed the baby, while at other times his wife did. Catherine was fed every two to three hours on boiled milk, with lime water and a pinch of salt added, and rice and barley water. (The pinch of salt, if added to each feed, would have resulted in an excessive sodium intake for a newborn infant and may have caused the bowel inflammation that eventually killed Catherine). Theresa admitted, shamefully, that she been drinking during the two weeks that Catherine was in her care. Another occupant of the house, Mrs Sarah Hayes, confirmed that Theresa drank beer by the glass daily, though she did not appear to be drunk. In her defence, Theresa stated that the child had died three weeks after leaving her care and could not have survived a pre-existing bowel inflammation for that length of time. She also maintained that she had fully intended to adopt Catherine, until she was taken away by her mother, and admitted ignorance of the law which stipulated that she must register the adoption.24,25
In summing up, Mr Candler found no fault in the care and feeding of Catherine by Mrs Manders and Mrs Duke. He considered that Catherine's mother, Mary Ann Kennedy, had "acted indiscreetly", but there were extenuating circumstances in her "desire to conceal the birth". Mr Candler then turned his attention to Theresa Thornton. He regarded her actions in trading the infant as a case of pure baby farming, motivated by petty greed and devoid of the love she professed to have for the child. He further stated that, regardless of the jury's verdict, Theresa would face charges for breaches of the Infant Life Protection Act. Having heard the evidence and the Coroner's summary, the gentlemen of the jury had already made up their minds. After a short deliberation, they found Theresa Thornton guilty of manslaughter, the child's death having been caused by gross neglect whilst in her care. They added the following statement: "We also very severely censure Mrs Fuller's conduct in this case, and consider the said Mrs Fuller is not a fit and proper person to hold either a certificate as a midwife or a licence for a private hospital. We consider also that it would to advisable if the act were altered in regard to a lump sum being paid in adoption cases."26
Theresa was committed for trial in the Supreme Court on a charge of manslaughter and was remanded in custody. Bail was not allowed and, in any case, she would not have had the means of paying. While awaiting trial for manslaughter, she faced two other charges. Theresa appeared in Carlton Court and was found guilty of adopting an infant (ie: Catherine Kennedy) for payment without being registered. Her plea of ignorance of the law fell on deaf ears and, unlike Sarah Solley from Kalgoorlie, she received the maximum sentence of three months' gaol. Theresa then appeared in North Melbourne Court, charged with "larceny as a bailee" of a sewing machine, valued at £12 10/, the property of Singer & Co. She pleaded guilty and appealed for leniency. The charged was subsequently altered to "larceny" and Theresa was sentenced to six months' gaol, to be served cumulatively with the three months' sentence from Carlton Court. Whatever the outcome of the Supreme Court trial, Theresa was destined to spend at least nine months in gaol.27,28,29
The Supreme Court trial took place on 17 April 1899, before Mr. Justice Hood. Mr. Finlayson prosecuted for the Crown and Theresa, who was not represented by counsel, conducted her own defence. Her cross examination of Nurse Fuller escalated into a war of words between the two women, who were once allies but were now adversaries in a court of law. Theresa alleged that Nurse Fuller had suggested the adoption as a means of financial gain and that she was a consenting party to the transaction. She further alleged that Nurse Fuller had given her an address where she could obtain a baby, and had attended her as if she had given birth, in order to conceal the true circumstances of Catherine's birth. Nurse Fuller soundly denied the allegations and Theresa accused her of lies and falsehood. In summing up the case, Justice Hood expressed his opinion that the practice of adopting children for a lump sum was "an organised, deliberate and systematic plan of murder". He had no doubt that Mrs. Thornton, Mrs. Fuller and even the mother, Mary Ann Kennedy, had no intention that the child should live. However, he directed the jury to leave aside their feelings on the practice of baby farming and simply decide, on the basis of the evidence presented, whether Mrs. Thornton was guilty or not guilty of manslaughter. The jury returned a guilty verdict and, as did the coroner's jury, expressed the opinion that some action should be taken against Nurse Fuller.30
Theresa Thornton returned to the Supreme Court on 28 April for sentencing by Mr Justice Hood. She was sentenced to seven years' imprisonment with light labour, to be served concurrently with her existing three and six month sentences, a minor concession granted by Justice Hood. On hearing the sentence, Theresa began crying hysterically from the dock and had to be assisted down the steps by two constables. What of her partner-in-crime, Nurse Fuller? The jury had recommended that action should be taken against her but, according to an earlier ruling in the Supreme Court, a jury had no legal power to censure a witness. Nurse Fuller ceased advertising nursing and midwifery services following her 1897 imprisonment, and her business may have suffered from the additional negative publicity in 1899. Who would want to engage a nurse implicated in the death of an infant unless, perhaps, they wanted an infant to "disappear"? Nurse registration records were incomplete prior to 1901 and Nurse Fuller's name was not listed in that year, so her registration may have been cancelled or relinquished in 1899 or 1900.31,32
In the days following Theresa's trial and imprisonment, her case and the practice of baby farming received much media attention. The Bendigo Independent used particularly strong language in condemning Theresa. She was variously described as a "fiend in petticoats", "wretched murderess", "brutal executioner" and "diabolical character". But was Theresa the only guilty party? The newspaper disputed the verdict of manslaughter and considered that all the parties involved were collectively guilty of murder and should have stood alongside Theresa in the dock. It went on to recommend changes to the Infant Life Protection Act, including making lump sum payments for adoption a criminal offence, for both the payer and the recipient, and establishing the child's paternity before birth so that the putative father would be legally obliged to support the mother during her confinement and pay her medical expenses. This latter recommendation, if implemented, would make it very difficult for an unmarried woman to conceal an illegitimate birth.33
Marie Theresa Thornton did not serve her full sentence – death claimed her after a year in prison. She spent the last two months of her life in the prison hospital, suffering from rheumatism and chronic heart disease, and died of heart failure on 31 May 1900. Her post mortem examination by Dr Douglas Edward Stewart noted that she was "well nourished" – rather ironic, considering the circumstances of Catherine's death – and also that she had "one eye missing." The eye loss was not recent, as indicated by a photo dated October 1893 in her prison record. It is curious that Theresa's missing eye was not mentioned in newspaper reports of court proceedings, as the physical appearance of a defendant was often noted, and sometimes in an unflattering way. Theresa Thornton, dubbed "a fiend in petticoats", was simply described as "an elderly stout woman."34,35
Notes and References:
1 The Age, 19 April, p. 6
2 Victoria. Infant Life Protection Act (1890)
3 City of Melbourne. Report in regard to the health, cleanliness, and general sanitary state of the city for the year 1899, p. 2.
4 Dr Griffith was giving evidence at the inquest into the death of Norman Carolan (Corolon), an illegitimate child who died while in the care of "Nurse Meade" in December 1898.
5 Central Register of Female Prisoners, no. 6521 (VPRS 516)
6 Nurse Fuller's hospitals were in private residences at 427 Rathdowne Street, Carlton, (now the site of Carlton Primary School), 694 Drummond Street and 709 Rathdowne Street, North Carlton.
7 The Age, 25 October 1897, p. 6
8 Constable Booth's statement is from Criminal Trial Brief, 1899/197 (VPRS 30)
9 The Age, 17 January 1899, p. 5
10 Nurse Meade's hospital was at 256 Cardigan Street, between Faraday and Grattan Streets, Carlton.
11 Victoria. Infant Life Protection Act (1890), Section 22
12 The Age, 30 December 1898, p. 6
13 Bendigo Advertiser, 30 December 1898, p. 4
14 Central Register of Female Prisoners, no. 6033 (VPRS 516)
15 Geelong Advertiser, 23 March 1899, p. 1
16 The Age, 24 March 1899, p. 7
17 Criminal Trial Brief 1899/197, op cit
18 A copy of the adoption agreement is included in Criminal Trial Brief 1899/197, op cit
19 The Age, 18 March 1899, p. 11
20 Dr James De Burgh's surgery was at 66 Elgin Street, next door to Nurse Fuller at 64 Elgin Street, Carlton.
21 A copy of Hannah Casey's letter to Theresa Thornton is included in Criminal Trial Brief 1899/197, op cit
22 Adoption agreement, op cit
23 Criminal Trial Brief 1899/197, op cit
24 ibid
25 The National Health Service (UK) recommends a salt intake of less than 1 gram per 24 hour period for babies up to 12 months old.
26 The Age, 18 March 1899, p. 11
27 Bendigo Advertiser, 23 March 1899, p. 2
28 The Age, 20 March 1899, p. 6
29 The Age, 24 March 1899, p. 7
30 The Age, 19 April, p. 6
31 The Age, 29 April 1899, p. 9
32 Harris, Helen D. Infant Life Protection Act. Harriland Press, 2001
33 The Bendigo Independent, 1 May 1899, p. 2
34 Inquest Deposition File 1900/659 (VPRS 24)
35 The Argus, 29 April 1899, p. 10

---
Jeffrey and Johnny walked through the streets of North Carlton on the afternoon of Thursday 5 October 1944. It was lunchtime and they were taking a break from Princes Hill Primary School in Pigdon Street, where they were classmates. They turned into Shakespeare Street, a short and narrow street between Drummond and Lygon Streets. Jeffrey's house was at no. 9, one of eight single-storey brick houses on the south side of the street. His parents and older brother were not at home, so he let himself in and the boys went to his bedroom. Minutes later, his friend Johnny lay motionless with a gunshot wound to his chest. Jeffrey panicked. It was not meant to happen this way, it was just a game. He saw the comic book and the image on the page seemed to look back at him accusingly. Jeffrey knew he had to remove Johnny's body from his room, otherwise he would be blamed for his death. There was a vacant block at the rear of his house, a dumping ground for rubbish, and he could hide the body there. He dragged Johnny through the house and out the back door. Why was he such a "dead" weight? Johnny's feet became stuck half way through the back gate, with his head lying face down in the gutter. And it was too late, Jeffrey had been seen. The enormity of what had happened hit Jeffrey and he began to cry.1,2,3
The death of John William Graham set off a train of events that saw Jeffrey Charles Clay charged with murder, and a court case that would challenge the legal interpretation of the age of criminal responsibility. Was a nine year old boy capable of committing wilful murder and understanding the consequences of his actions? The first person on the scene that day was Ronald Traplin, a 14 year old boy who lived two doors down at no. 13 Shakespeare Street. He had not heard the shot or noticed anything unusual when he set off on a message but, on his return soon afterwards, he saw Jeffrey dragging John's body outside. Ronald asked Jeffrey what he was doing and he replied, tearfully, that he had found the unknown boy in his bedroom. Seeing the blood and realising the seriousness of the situation, Ronald called the police. They arrived soon afterwards and a search of the house and surrounding area yielded a single-barrelled shotgun under Jeffrey's bed, a comic book depicting a shooting scene and a spent cartridge on the vacant land. The house in Shakespeare Street was now a crime scene.4
Detective Adam interviewed Jeffrey that afternoon at the school, in the presence of the headmaster as a responsible adult. Jeffrey initially maintained his story that he had found Johnny dead in the bedroom and he had removed the body because he did not want him to be there. The detective persisted in his questioning and Jeffrey then said that Johnny had tied a piece string of around the shotgun trigger and shot himself. Finally, Jeffrey admitted that they had been looking at the comic book, which showed a bandit pointing a tommy gun at the chest of another man, and were acting out the scene when the gun went off. Detective Adam considered Jeffrey's admission and the evidence found at the shooting scene sufficient grounds for a murder charge. At the city watchhouse later that day Jeffrey Charles Clay, aged 9 years, was charged with the murder of John William Graham, aged 8 years and 10 months.5
The inquest into the death of John William Graham was delayed for four weeks and in the meantime Jeffrey was to remain in custody. At nine years of age, he was too young for an adult prison and he was placed in the care of the Children's Welfare Depot at Royal Park, an experience he would have found frightening and confusing. His one-time friend, John William Graham, was laid to rest at Fawkner Cemetery on 7 October, two days after the shooting. John was the only son of William and Hazel Graham and the family lived at 947 Drummond Street, North Carlton, a few blocks away from the school. The inscription on his red granite headstone reads:
In Sweet and Loving Memory of our Darling JOHN
Beloved only son of William & Hazel Graham
Killed at Nth Carlton 5th Oct 1944 in his 9th year.
"Our Sunshine"
"In God's Care"
The inquest took place at the City Morgue on Thursday 2 November 1944. The City Coroner, Mr. Tingate, P.M., heard the witness statements and considered the evidence. Jeffrey's conflicting statements to police cast doubt on his innocence and, as many a parent would know, children will sometimes lie to avoid getting into trouble. The matter of how the shotgun (or two guns, as later reported by The Telegraph) came to be in the possession of the boys was not made public at the time, but Mr Tingate drew attention to the incriminating "penny dreadful" comic that was found in Jeffrey's bedroom. This form of sensationalist "literature", cheap in both price and content, often depicted scenes of violence and murder. Mr Tingate considered such literature entirely unsuitable for children and potentially dangerous in the hands of impressionable young boys. The Coroner found that John William Graham died of a gunshot wound, wilfully inflicted by Jeffrey Charles Clay. Jeffrey was committed for trial in the Criminal Court and bail was set at £200, an extraordinary amount for a child who was unlikely to abscond.6,7
On 23 November 1944, Jeffrey set a legal precedent by being the youngest person to stand trial for murder in the Criminal Court, before Justice Macfarlan. Jeffrey was so small sitting in the dock that he could not be seen from the body of the court. He pleaded "not guilty" to the charge and replied "Yes" when asked whether he understood the nature of the charge. In his opening address to the jury Mr Sproule, Crown Prosecutor, explained the law as it stood in relation to the age of criminal responsibility. Under seven, a child was presumed by law to be incapable of committing any crime. Between seven and fourteen, he was presumed not to have sufficient understanding to be capable of wilfully committing a crime. When a boy of nine was charged with a crime, the Crown must satisfy the jury that he knew that he was committing a crime. The evidence presented was that Jeffrey and John were friends and a boy named Chubb, who accompanied them for part of the walk home on the day, said that there was no quarrel between them. In the absence of any evidence of malice or intent to commit a crime, Justice Macfarlan directed the jury to find the defendant not guilty. The jury followed Justice Macfarlan's direction and Jeffrey was acquitted and free to join his family.8
Jeffrey returned home to Shakespeare Street, but his life would never be the same. He resumed his education and his school record shows that he went on to Brunswick Boys School. Surprisingly, the Clay family continued to live in the house at Shakespeare Street and, as it was a small house, Jeffrey probably went to sleep each night in the same room where his friend had died. The house, a rental property owned by Clara Ross, was condemned by the Housing Commission of Victoria as unfit for human habitation in December 1956. Jeffrey and his father Charles were still living there more than a decade later when the Housing Commission issued an ultimatum in a memo dated 22 April 1968:
"It is the view that ample time has now been allowed [for] these two adult males to make suitable rehousing arrangements, and as appropriate warnings have been issued of impending Commission action, approval to the service of a notice to vacate on the occupiers of no. 9, is now requested, whereby, if then necessary, ejection action can be instituted, and the demolition carried out by Commission contract with costs charged." 9,10
Jeffrey and his father moved to a flat in Drummond Street and their house was one of five (nos. 7 to 15 Shakespeare Street) demolished by order of the Housing Commission. The vacant land became an illegal dumping ground until local residents took action and transformed the space into a mini park. Grass now grows in the place where John Graham breathed his final breath in October 1944. John's family, his parents and sisters, also chose to stay at their house in Drummond Street. John's father William Joseph Graham died in June 1979, aged 80 years, and his cremated remains were buried with his son at Fawkner. His mother Hazel Emily Graham (neé O'Brien) remained in North Carlton until the early 1990s. She died in Hawthorn in October 1997, aged 93 years.11,12
The lessons of John Graham's tragic death are still relevant today. There are calls for the age of criminal responsibility, now set at a minimum of 10 years, to be increased to 12 years or older. Had John Graham been killed today, Jeffrey Clay would not be charged with his murder. The "penny dreadful" comic has given way to electronic media and the depiction of violence in film, television and online is ever more pervasive. Despite stringent gun control measures in place in Australia, there continue to be fatal shooting incidents involving children. Will we, as a society, ever learn?13
Notes and References:
1 Jeffrey Clay was also known as "Geoffrey" Clay. The former spelling has been used, as confirmed by his school record and electoral rolls.
2 The criminal trial brief for this case (No. 1944/932) has not been located at the Public Record Office (PROV) and the events have been reconstructed from newspaper reports and other sources.
3 Biographical information has been sourced from birth, death and marriage records, and electoral rolls.
4 The Argus, 6 October 1944, p. 3
5 The Age, 6 October 1944, p. 3
6 The Telegraph, 23 November 1944, p. 2
7 The Age, 3 November 1944, p. 3
8 The Age, 24 November 1944, p. 5
9 Princes Hill Primary School Archives
10 Properties condemned under section 56 of the Housing Act 1958 (VPRS 1824)
11 Fawkner Cemetery records
12 Probate file of Hazel Emily Graham (VPRS 28/P27/422/1138156)
13 Gregor Urbas. The age of criminal responsibility, Australian Institute of Criminology, 2000.
Related Items:
Shakespeare Street
Shooting in Shakespeare Street
---
George Booker Barlow was a respectable married man, the eldest son of the Rev. Robert Barlow, formerly of St. Mark's Church, Fitzroy. He was born in Ireland in 1854 and migrated to Australia as an infant in 1855. Barlow was employed at the Carlton branch of the London Chartered Bank in Elgin Street, where he had worked as a cashier and accountant for 15 years. He was a valued employee and anyone could trust him with their money. Or could they? On Monday 29 August 1887, Mr Reed (Read), inspector of branches for the bank, turned up unexpectedly to examine the books. Barlow made a hurried exit, taking with him the loaded revolver that he kept under the counter. He did not return to work that day and, in the meantime, an examination of the books revealed a deficit of several hundred pounds. Furthermore, Barlow had apparently made no attempt to conceal his embezzlement. The police were notified and a warrant was issued for his arrest.1,2,3
When the police arrived at Barlow's house in Heidelberg, his wife Annie was frantic with worry. Her husband had not come home at the usual time and he had left his horse and buggy, which he used to travel to and from work, stabled at Foley's Hotel. Further investigations revealed that, shortly after leaving the bank, Barlow had gone to the Flower Hotel in Drummond Street and settled a wager he had lost over a football match between Carlton and South Melbourne. He was last seen in Brunswick by an acquaintance named Davis, who was surprised that Barlow did not acknowledge his greeting and instead headed off in the direction of the Merri Creek. An extensive search of the creek and surrounding district failed to find any trace of Barlow, and concerns were raised that he may have taken the revolver in order to commit suicide.4,5
George Barlow was on the run for a week when, once again, he was seen by an acquaintance. He turned up at Stockwell's hotel in Molong, a small town in the central west region of New South Wales, on Monday 5 September. A man in the bar thought he recognised Barlow as an acquaintance from Melbourne, though he could not quite place him. But his hard stare was enough to spook Barlow, who took off and spent the next two miserable nights sleeping rough in the bush. He returned to Molong on the Wednesday morning, where his bedraggled appearance and distracted manner attracted the attention of Police Sergeant Harley. Barlow, fearing that he was about to be arrested, identified himself and surrendered to police. He also admitted that, had he stayed another night in the bush, he would have committed suicide. Barlow was arrested and taken to Sydney, then Constable Quilty escorted him back to Melbourne to face charges.6
The initial hearing was held before the Carlton Bench on Saturday 17 September, with Mr Leonard representing Barlow. Barlow was charged with embezzling £500, the property of the London Chartered Bank. He denied the charge, stating that he only taken his month's wages. Bail was granted at £300, with a surety of the same amount, and Barlow left the court and went home with his wife. Three days later, he was re-arrested and back in court, facing additional embezzling charges dating back to February 1887. This time he was committed for trial and bail was set at £1,500, with a £500 surety. George Barlow had his day in court on Monday 3 October and, probably realising that the game was up, he changed his plea to guilty of embezzling three sums of money, amounting in total to £645. He was remanded for sentencing and faced the court again on the following Monday 10 October.7,8,9
Before Judge Worthington, Mr Reed, whose vigilance had brought about the downfall of George Barlow, deposed that the prisoner had been in the service of the bank for 15 years, and had always done his work satisfactorily until recent events. He said he was inclined to think that the prisoner had brought himself to his present position through drink and bad company. Judge Worthington was not moved by any suggestion of mitigating circumstances and said that drinking and bad company were not excuses for crime. He further discounted a medical certificate, stating that Barlow was suffering from a "dangerous complaint", on the grounds that the prisoner would have access to medical treatment while in gaol. Judge Worthington, believing that those who breach a position of trust should be severely punished, sentenced George Barlow to three years' gaol, with hard labour.10,11
George Barlow spent two years and two months in Pentridge gaol. His prison record shows that he was released early, by special authority, on 21 December 1889. Unlike some of his fellow prisoners, he recorded no offences while in custody, and did not commit any additional offence after his release. His time at Pentridge, doing hard labour, must have taken its toll on the former bank employee who was accustomed to a desk job. He died in Brunswick on 13 September 1892, aged 38 years, and he was remembered by his widow Annie in a memorial notice published in The Argus in September 1893.12,13,14
Notes and References:
1 George Booker Barlow married Harriet Annie Merritt in 1883.
2 The former London Chartered Bank building is on the north west corner of Elgin and Drummond Streets.
3 Barlow's embezzlement and subsequent trial were reported extensively in newspapers from September to October 1887.
4 Foley's Hotel was in Bourke Street, Melbourne, but it was more likely that Barlow stabled his horse with Thomas Foley in Drummond Street, Carlton. The stables were a short walk from the London Chartered Bank and within a closer commuting distance from Heidelberg.
5 The Flower Hotel, where Barlow paid his football wager, was at 463 Drummond Street. The hotel ceased trading in February 1908 and the land was compulsorily acquired by the Housing Commission of Victoria as part of its slum reclamation program.
6 The Sydney Mail and New South Wales Advertiser, 10 September 1887, p. 575
7 The Age, 19 September 1887, p. 6
8 The Age, 23 September 1887, p. 5
9 The Argus, 4 October 1887, p. 5
10 The Argus, 11 October 1887, p. 6
11 Barlow's description in the Victoria Police Gazette of 7 September 1887, p. 262, noted "subject to heart disease".
12 Central Register of Male Prisoners, no. 22123 (VPRS 515)
13 It was not uncommon for prisoners to be charged with seemingly trivial offences and have their sentences increased.
14 According to Barlow's prison record, his wife Annie was living in Church Street, Carlton, while he was serving his sentence in Pentridge.

---
Legless in Carlton
As a sanitation worker, William Hodges was accustomed to finding all sorts of foreign objects in the drains of the city. He was employed as a ganger by the Melbourne & Metropolitan Board of Works and, on the morning of Thursday 3 May 1900, his job was to flush the drains in Rodney Place, Carlton. This was a short right-of-way between Drummond and Lygon Streets, with an opening off the south side of Pelham Street. When Hodges approached the drain cover, he was shocked to see what appeared to be the bones of a human leg and foot lying across the grating. The bones were devoid of flesh and dark in colour, as if exposed to the air for some time. A week or two earlier, a neatly-severed human hand had been found in Francis Street in the city. Were these the body parts of a murder victim?1
Hodges wasted no time in calling the police, who took possession of the bones and removed them to the Detective Office, and thence to the City Morgue. An initial examination confirmed that the bones were human and the shin bone had been cut off at the knee joint. It was not known if the bones were from a man or a woman, or from the same body as the severed hand. Hospital records were checked, but there were no recent amputations corresponding to the found body parts. Dr C.H. Mollison performed a detailed forensic examination and concluded that the bones were medical specimens from an adult male of small stature, and were most likely the subject of a morbid student prank. A possible scenario was that a medical student had taken the body parts, without authorisation, to practise their dissection skills, then discarded them to avoid potential disciplinary action by Melbourne University. There were no further reports of discarded body parts and the citizens of Melbourne could rest assured in the knowledge that there was no axe murderer in their midst.2
Five and a half decades later, in November 1956, a Carlton resident was left minus a leg when a brazen burglar stole his wooden prosthesis. Laure Festini, who lived in Drummond Street, had left his trousers and wooden leg on a chair near the window when he went to bed. He woke during the night to the screeching sound of the window opening. Alarmed, he called out when he saw a man reach through the open window and grab his trousers and wooden leg. Festini hopped, on his remaining leg, across to the window. He saw two men running away in opposite directions, one waving his trousers and the other brandishing his wooden leg, but he was unable to give chase — for obvious reasons. Mr Festini was understandably upset by the loss of his wooden leg. He had had it for 21 years and regarded it as a "friend".3
William Wylie was minus his left leg, but he was able to use his disability to advantage. He was a petty criminal, born in 1864, with a string of convictions dating back to the 1880s. In September 1885 Wylie was arrested in Madeline street, Carlton, for assaulting Constable Moor:
William Wylie is a notorious character. He has only one leg, but he uses his crutch to assault constables and rescue his pals from the police. On Sunday week last he assaulted Constable Moor, who was arresting a man in Madeline street. Several witnesses proved the assault. Prisoner did not know anything about it. He was looking for his father's house, the parent having shifted while he was away. The time Wylie was "away" was spent in gaol, as he got three months at Hotham in May for beating a constable. He had served several other sentences for insulting behaviour, and the bench fined him L10 [£10] or three months.4,5
References:
1 The Age, 4 May 1900, p. 5
2 The Herald, 4 May 1900, p.4
3 The Argus, 14 April 1956, p. 3
4 Prisoner No. 20260 (VPRS 515)
5 The Herald, 30 September 1885, p. 2

---
What Shall We Do With A Drunken Sailor?
Dealing with drunk patrons is part and parcel of the hotel trade, but staff of the University Hotel were in for a surprise when an inebriated sailor fell asleep on the sofa in August 1912. Constable Davies was called in and he recognised the "sailor" as a local young woman named Vivian Campbell:
"She was dressed in a complete suit of the clothes worn by the men of the Australian squadron, including the black silk handkerchief worn around the neck, with the ends tied in the usual sailor's knot, and the blucher boots. She had tucked her hair into the cap. Constable Davies arrested her on a charge of drunkenness, and locked her up. About half an hour later a man who stated that he belonged to H.M.S. Endeavour came to the watchhouse. He stated that whilst he was asleep someone had taken all his clothes, and he had to remain in bed until some clothes were borrowed from the neighbours for him. Plain-clothes Constable Sharpe sent a woman for Campbell's clothes, but Campbell declared that she would not take off the man's garments, and it was some time before she was persuaded to do so. Campbell is about 5ft. 10in high, and is built in proportion. She gave her age as 22 years."

The Argus, 17 August 1912, p. 21
The question remains: If Miss Campbell was so drunk, how did she manage to tie the silk handkerchief in a sailor's knot and keep her hair neatly tucked into the sailor's cap? Perhaps she was in collusion with the sailor whose clothes she allegedly took, or she may have had another accomplice.
The University Hotel, on the corner of Lygon and Grattan streets, was first licensed to James Plomer in 1858. The hotel ceased trading in December 2016 and, as of 2018, the building is occupied by the Carlton branch of the Commonwealth Bank.
---
Catnapping in Carlton
Illegal detention is hot topic in Australia, debated by politicians, lawyers and human rights advocates. In 1903, a dispute over the ownership of a cat led to a curious case of illegal detention, heard in Carlton Magistrates Court before JPs Edwards and Clyne. Felix Mortimer, an icecream vendor and resident of Reeves Street Carlton, sued his neighbour Michael Cregan, publican of the Ancient Briton Hotel in Rathdowne Street, for illegal detention of his cat. The cat in question, which did not appear in court, was described by the claimant as a black and white "Mauritius" cat with a burn mark on its tail. Mr Mortimer claimed that he had brought the much-travelled cat with him from his native Mauritius and, to the amusement of the court, that he loved the cat as if it was his own child. The defendant, Michael Cregan, claimed that he had owned the cat for more than 12 months, while Felix Mortimer stated that his cat had been missing for a few weeks and Cregan would not return it. The court decided in Mortimer's favour and ordered that Cregan return the cat or pay the amount of 5 shillings, fixed by the court as the value of the cat, and 19 shillings costs.
Michael Cregan was publican of the Ancient Briton Hotel, on the north corner of Rathdowne and Reeves Streets, from July 1899 to July 1905. The hotel itself dates back to 1867 and was originally licensed to John Reeves, who once owned the street that bore his name. Reeves suffered financial losses and was declared insolvent in 1868, forcing sale of the hotel building and all the houses in Reeves Street. The Ancient Briton Hotel continued to trade for five decades, with a succession of publicans and the occasional breach of licensing regulations. The hotel was delicensed in 1919 and the nine room brick building became a residential property.
References:
The Age, 1 October 1903, p. 6
The Argus, 1 October 1903, p.5
Index to Defunct Hotel Licences (VPRS 8159)
Related Item:
Reeves Street Carlton
---
A Carlton woman, searching for her husband's secret stash of whiskey in May 1918, made a startling discovery. Instead of the demon drink, she found a parcel of 250 shiny, new two shilling pieces stuffed behind the fire grate. She gave one of the coins to a friend, a soldier who was staying with her while he was on leave from the army. He went to the local hotel and tried the "pub test". The savvy publican recognised the "silver" coin as being made from base metal and, taking a hammer, he hammered it to the bar counter. Back at the house, the woman was in a panic as she feared she could be charged with being in possession of counterfeit coins. She placed them in a stocking and later threw them into the Yarra River at Princes Bridge.
The matter, like the coins, might have rested there in the murky depths of the Yarra River, except that the soldier had taken a few coins as souvenirs and they later turned up in circulation at Camp Maribyrnong. The police were called in, but the soldier was not charged because he had given the coins away and had not intended to profit from the transaction. After investigating, the police concluded that the coins, all dated 1908, were most likely the hoard of two "coiners" who were operating in Carlton in that same year. In April 1908, Arthur James and Emily Quilky were arrested and charged with larceny, and with having coining implements in their possession. The police had gone to a house in Barkly Street to recover stolen goods and, in the process of searching, they found plaster moulds of half crowns and coins in various stages of manufacture. Did the two spurious coin discoveries take place in the same house, 10 years apart? The 1918 newspaper accounts do not identify the street address or the names of the people involved – suffice it to say that the evidence was circumstantial.
This was not the only coining case in Carlton. In March 1914, Frederick Thorpe and his wife May (Mary) were arrested and charged with manufacturing, and having in their possession, counterfeit sovereigns. They lived in Lygon Street and, in the early hours of the morning, several police detectives visited the house and found the coins hidden under the mattress on which Mr and Mrs Thorpe were sleeping. Both denied having any knowledge of the "coining plant" that was found in the house, claiming it must have already been there when they moved in. The case was heard in the Criminal Court in April 1914 and, after an hour's deliberation, Frederick Thorpe was found guilty and sentenced to three years' hard labour. He had a series of prior convictions, dating back to 1907, and he spent the following years to 1925 in and out of gaol. May Thorpe, who had a young baby at the time, was found not guilty and went home to contemplate a life without her husband.
References:
Geelong Advertiser, 6 May 1918, p. 5
The Age, 1 May 1908, p. 6
The Age, 17 April 1914, p. 14
The Argus, 17 April 1914, p. 12
Prisoner No. 31480, Victoria Prison Register (VPRS 515)
---
In 1890, a "respectable looking man" named John Skelton escaped a charge of stealing a side of bacon, valued at 37 shillings and sixpence. He was discovered in a shed at the rear of the premises of Mr Kenny, at North Carlton, in which a quantity of bacon was stored. He was seen handling the meat, but in Carlton Court on 16 April 1890, he denied that he had any felonious intention, and had simply gone to the place to have a sleep. As it was noted that he was showing signs of heavy drinking, this could be seen as a plausible explanation. Skelton's defence counsel argued that there was no evidence of a theft having been committed, as the bacon had not been removed from the shed. The bench found in favour of the defendant, who probably went home to nurse his hangover.
Reference:
The Age, 17 April 1890, p. 5
---
John Smith, an elderly man down on his luck, helped himself to six manilla bags that were hanging from the doorway of Mr. W. T. Thompson, ironmonger, of Elgin Street Carlton. Smith was arrested soon afterwards and appeared in Carlton Court the following day, 2 February 1894. He pleaded guilty to the charge of stealing the manilla bags, valued at six shillings, stating that he was poor and had taken the bags in order to procure food. The Bench took a lenient view of the case and sentenced him to 14 days' imprisonment. One wonders what sentence would have been imposed had he not been treated leniently.
Reference:
The Argus, 3 February 1894, p. 5
---
The Price of a Newspaper
Robert Campbell, a newsagent of Rathdowne Street, was fed up with pilfering. He faithfully delivered newspapers to doorsteps in Carlton – come rain, hail or shine – but he was losing an average of 20 newspapers a week through theft. So it was with bittersweet satisfaction that he saw Herbert Beard, someone he had known as a very respectable man, in Carlton Court facing a charge of stealing The Age newspaper, valued at one penny. Charles Coltman, a resident of 427 Rathdowne Street, stated that he had seen Beard open his front gate, pick up the newspaper and walk away with it. Constable Gillespie, who was on watch nearby, had also seen Beard take the newspaper and he made an arrest. In his defence, Beard claimed that he had taken the newspaper to read the job advertisements and he did not intend to steal it. Campbell, while he regretted seeing Beard in his present predicament, considered that action had to be taken to stop newspaper pilfering. Beard was fined ten shillings – 120 times the price of the newspaper he took.
References:
The Age, 25 June 1913, p. 11
The Argus, 25 June 1913, p. 10
---
William Thompson fell asleep on the verandah of his house in Little Barkly Street, Carlton, on a Saturday evening in January 1899. He awoke an hour later to discover that his trousers had been slashed while he slumbered. Not only that – his watch and chain, and over 30 shillings in cash, were gone. It was the watch that led police to make an arrest in Lygon Street several days later. William Baker, a convicted criminal, offered the watch as security for a loan from Solomon's pawnbroker in Lygon Street. Mrs Solomon recognised the watch as stolen and alerted the police, who arrested Baker. Baker went on to assault police at the Carlton Police Station, adding resisting arrest to his list of charges. At the Carlton Court on Friday 20 January 1899, Baker pleaded guilty and, having recently been released from four years in prison, was sentenced to 12 months' imprisonment for larceny and 3 months' for resisting arrest. The watch was no doubt returned to Mr Thompson, but it is unlikely that the stolen cash was recovered or that Thompson was compensated for the damage to his trousers. Hopefully Mrs Thompson was handy with a needle and thread.
Reference:
The Age, 21 January 1899, p. 9
---
Picking flowers seems like a harmless activity, but for William Angus, a coach builder, it cost him dearly. Two police officers patrolling the grounds of Melbourne University on a Sunday in July 1901 noticed that flowers had been stripped from shrubs in the quadrangle. They came across Mr Angus, holding the incriminating evidence of a large bunch of flowers, and made an arrest. Angus pleaded guilty to a charge of stealing about 100 camellia blooms, the property of the Melbourne University Trustees. He was fined 40 shillings, or in default one month's imprisonment. The sentence took into account the damage caused to the shrubs by breaking off the stalks, and perhaps the presiding magistrate was a camellia fancier or keen gardener.
Reference:
The Age, 23 July 1901, p. 9
The Cemeteries Act of 1890 was still in force in 1939 and, according to section 8, the trustees of a cemetery had "the power and authority to make such rules and regulations … for protecting the buildings monuments shrubberies plantations and enclosures therein and thereof from destruction or damage." Gertrude Butler, a resident of St Anne's Hall in Rathdowne Street, Carlton, ran foul of the law when she stopped to pick some flowers from a grave at the Melbourne General Cemetery. She was seen running away by First Constable Weir, who caught up with her and took her to the Cemetery Office. William Ernest Pratt, Secretary to the Trustees of Melbourne General Cemetery, said that Miss Butler saw no harm in taking a few flowers, but she was, in his opinion, in breach of the rules and regulations. At Carlton Court on 24 November 1939, she was fined £1, with £2, 4 shillings and 6 pence costs.
References:
Victoria. Cemeteries Act (no. 1072, 1890)
The Herald, 24 November 1939, p. 7
---